The Amazing Easter Morn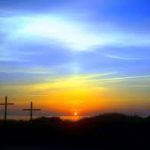 This Sunday is Easter, and I can't help but talk about the day that changed it all—for you, for me, and for all mankind. Jesus ministry on the earth was wonderful. But when we think of how short it was—just three years—and how much it changed the history of all mankind, well, it's more than amazing.
For three years, everything was going along quite well, thank you very much. Jesus and the disciples were a dynamic team. They were in the groove. They were healing people. Changing lives. They were making an amazing impact on their world.
And then the Last Supper happened.
Sure, Jesus had mentioned that he might not be around forever. But who was really listening to that? They had work to do! Who expected a change like this? There were so many who still needed to hear the Good News.
And then Good Friday happened.
The arrest. The whipping. The crucifixion. The death. The grave.
Everything changed. Hope was gone. Fear was ever present. Questioning ran amuck. Faith faltered. No more miracles. No more Good News. Was it all a lie?
And then everything changed—again—on Easter morning!
Hope was renewed. Fear was gone. The questions—at least those that mattered—were answered. Faith was renewed. And the disciples became fearless preachers of the Good News, completed by the Resurrection!
History and people were changed—forever.
Whether you live in America or Ireland or wherever, when we think about all the changes that came with Christ's sacrifice—that first Good Friday and Easter Sunday—we cannot help but be amazed, humbled, and oh so grateful for the opportunity He gave us to change too. We can change from death to life. We can transition from our old sin nature and become a new man or woman. We are no longer slaves to our flesh but to His perfect will for our lives.
This Easter season, what would you like to change in your life? To hope again? To not fear the future? To not question God? To have faith again?
Easter changes everything, even today, and that includes you and me!
How have you changed—because of Easter morn? I'd love to know!
Follow me on social media!