The Next Big Thing Blog Hop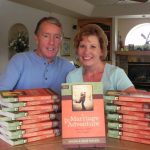 I am interrupting the regularly scheduled blog to participate in a "blog tour". So guess what? You'll get two blogs today. Enjoy!
This "tour" is similar to a chain letter (gasp!) for those who like to know more about the behind-the-scenes details of a book. Julie Carobini answered questions about her book last week, and today it's my turn.
I hope you enjoy this little holiday distraction. And next week? Four of my writer friends will share about their books on Wednesday, December 17th. (I'll provide you links.)
Here's the scoop:
What is/was the working title of your book?
We originally titled our book, Countdown for Second-Marriage Couples, but that left out those who have been married more than twice. So the editorial team suggested The ReMarriage Adventure, and we loved it!
Where did the idea come from for the book?
Our first book, Countdown for Couples, focused on first marriages. But because the failure rate for remarriage is even nearly 75 percent, our goal in writing this book was to help lower that rate significantly by preparing couples for the adventure of remarriage.
What genre does your book fall under?
Non-fiction: Marriage
What is the one-sentence synopsis of your book?
Remarrying couples are looking for real answers to help them build successful marriages that last a lifetime. This easy-to-use premarital guide will help individuals, couples, pastors, counselors, small groups, or premarital classes prepare for the adventure of remarriage. (Oops, that was two.)
Will your book be self-published, traditionally published, or represented by an agency?
The ReMarriage Adventure was published by Tyndale and Focus on the Family, just like our first book, Countdown for Couples.
How long did it take you to write the first draft of your manuscript?
Dale and I had so much fun that it only took about three months to get it done.
What other books would you compare this book to within your genre?
I'm honored that Ron Deal endorsed The ReMarriage Adventure, because it's sort of a companion to his The Smart Stepfamily. While Ron's book focuses on the kids, our book is primarily about the remarriage relationship. So between the two, any remarrying couple would find a wealth of information to get their blending family off to a great start.
Who or What inspired you to write this book?
One of the reasons our first marriages failed is that we didn't have a premarital guide to help us prepare. That inspired us to write our first book, Countdown for Couples, and now our second book, The ReMarriage Adventure. Both of these are, in essence, premarital counseling in a book!
What else about your book might pique the reader's interest?
The true value of reading The ReMarriage Adventure, is that it's a roadmap for success. It combines spiritual principles and practical strategies to empower couples to succeed in their remarriage. We concentrate on making a remarriage really strong because marriage is the foundation of the family, and your family can only be as strong and healthy as your relationship as a couple!
Thanks for reading! Next Wednesday, please visit the following writer friends who will share the inside scoop about their own books. Feel free to hop over there now, but don't worry, I'll remind you again next week. Thanks!
Follow me on social media!