Raising an International Child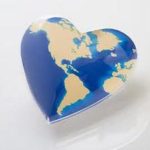 I taught my little girl to love and pray for the world, even as a toddler. All it took was a blow up globe and a little fun. As she grew, a globe on the kitchen table gave us a fun educational game I called "Spin Around the World." During meals, we would often find a country, spin the globe, and call someone's name. Then that person would have to find where the country was. Before middle school, my kids knew even the tiniest countries and where they were located.
Today my daughter is a missionary in South Africa and my three granddaughters were born there. They are "international children" in every sense of the word, and they have an amazing understanding of God's big world. And in today's global economy and society, that's a good thing.
When my granddaughters were here for Christmas, even though they are just two and four, they talked about living in Cape Town, South Africa. They pointed out "the American flag" every time they saw it, and they sang about "seven red stripes and six white stripes and a field of blue with fifty white stars." And we read books and talked about God's love for the world.
They even relished the experience of international travel, and they understood that they were a part of two different countries. And when I asked the oldest whether she liked take-off or landing best, she said, "Oh, Grandma, I like it all!"
Though there's a bit of melancholy attached to having family live so far away, I know I am partly to blame. I cast a vision for God's heart for the world in my daughter when she was little and she's passed it on to her children. But I can't complain; they are right in the middle of doing God's work, and for that, I am richly blessed.
So whether you're a mom, dad, grandparent, or teacher, I encourage you to help children open their eyes to God's beautiful, big world in this global society of the 21st century. Help them understand that they are a part of history, a part of God's bigger picture and plan for His world. In this global society, you'll be glad you did.
How do you feel about us being a global society? I'd love to know.
Follow me on social media!