Making Plans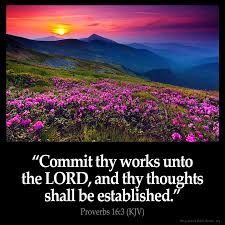 "Commit to the Lord whatever you do, and your plans will succeed," Proverbs 16:3.
It's still January, still the beginning of the year, and I'm still making my 2015 plans. Yes, I'm getting a slow start, but it's never too late, right?
While planning, goal-setting, and making bucket lists are well and good, I've learned that none of that matters unless those plans, goals, and lists are firmly committed to God's will and way. My plans need to be His plans. But what does that look like?
For me, that takes time, prayer, and searching my heart to make sure my plans—and the motives that surround them—are biblically based and Spirit led. It could be anything from a vacation to building a friendship to writing my next book; I simply need to check first with the One who knows what's best for me.
Of course I have to plan my course—plan my days, weeks, months, and year—but I want the Lord to determine my steps (Proverb 16:9). Otherwise, I know I'll be spinning my wheels, wasting my time, and could even get myself into a whole heap of trouble!
So as I've been looking at my weekly blogs and where I should go with them, I going back to square one, and I hope you'll be blessed. This year, I'm going to focus on what God says in the tattered pages of His Word (see my January 7, 2015 post), especially as they relate to living out our stories of life, love, and leaving a legacy that matters.
Whether it's about marriage, parenting, grandparenting, or writing, traveling, or some other aspect of life, we'll ponder the foundation of what God's word says about life. After all, that's all that really matters, right?
What would you like to hear about this year concerning life, love, and legacy?
Follow me on social media!