Number Nine is out!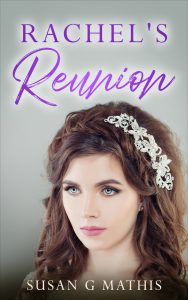 It's hard to believe that in just five years I have written, and published, nine historical fiction titles. In the beginning, I had only planned to write The Fabric of Hope, but then Susan's story in Christmas Charity just had to be told. Next came Katelyn's Choice, because I had to tell the George Pullman and President Grant story of how the Thousand Islands Gilded Age got started, right? After that, Katelyn's friend, Sara, had a surprise, and Sara's Surprise came to be.
Well, after a trip to Singer Castle, Devyn's Dilemma just ached to be told, and her friend, Reagan also had a story, so Reagan's Reward emerged. What fun I've had dreaming up these stories, and it isn't over yet.
When I learned about the renovation and the amazing art history of Comfort Island, well, Colleen's Confession jumped out of my head and onto the page. And I've always wanted to write about Calumet Island, so Peyton's Promise was a fun and interesting story to write.
Today is the birthday of my nineth book baby, Rachel's Reunion! It continues the story of Rachel Kelly and Mitch that I started to tell in Peyton's Promise where Rachel is Peyton's friend and roommate, and Mitch is Patrick's friend and roommate. The two connected while serving the Emery's in Calumet Castle on Calumet Island. Rachel served there for two years, but Mitch left after just one summer.
Unfortunately, Mitch bumbled their relationship by taking a job on a saltie (a ship that crosses the ocean)—to make enough money to be worthy of Rachel's love—and he failed to tell her why. In doing so, he hurt her terribly. Rachel felt abandoned and forsaken.
After two summers on Calumet, Rachel was offered a wonderful position at the New Frontenac Hotel on Round Island in the St. Lawrence River. It's one of the grandest hotel resorts in the area. New York City tycoon Charles G. Emery built it, and now she gets to stay and work in the hotel's Annex where the most elite guests enjoy elegant suites and amazing activities.
Rachel is just sure she'll never see the man who broke her heart. But surprise! He takes a position as captain of the hotel's touring yacht, and the rest is history. Or is it? A handsome, famous photographer gets in the way, and so does her stubborn unforgiveness. You'll have to read my newest, Rachel's Reunion, to find out…the rest of the story.
And I'll tell you a little secret…I have seven more planned!
About Rachel's Reunion
Summer 1904
Rachel Kelly serves the most elite patrons at the famed New Frontenac Hotel on Round Island. She has wondered about her old beau, Mitch, for nearly two years, ever since he toyed with her affections while on Calumet Island, then left for the high seas and taken her heart with him. Now he's back, opening the wound she thought was healed.
Mitch O'Keefe returns to claim his bride but finds it more difficult than he thought. Returning to work at the very place he hated, he becomes captain of a New Frontenac Hotel touring yacht, just to be near Rachel. But his attempts to win her back are thwarted, especially when a wealthy patron seeks her attention. Who will Rachel choose?
Follow me on social media!