Meet author Heather Greer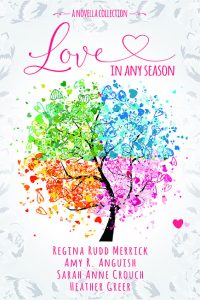 Heather Greer and her husband are adjusting to their empty nest in southern Illinois. Writing and being a pastor's wife help her keep busy in her now quiet home. Heather's greatest blessings are the writing ministry God's given her, her husband, her four grown children, and her grandchildren (though not necessarily in that order). When she's not writing or reading, Heather enjoys cheesy romance movies and spending time with family and friends.
Tell us about your newest book.
Sugar and Spice is the winter novella in the Love in Any Season novella collection. New Kuchenbrünn, Missouri looks like it was plucked from the pages of a German fairy tale, and Emmie Becker loves it. Owning her family's bakery, Sugar and Spice, adds to her fairy tale come true, except during the annual Gingerbread Festival. The problem? Emmie hates gingerbread. And this year gingerbread isn't her only problem. Ryker Lehmann is returning home to photograph the festival. He's witness to her biggest humiliation, her secret teenage crush, and the man who broke her heart when he left town. With gingerbread and Ryker together, can Emmie make it through the festival with her mind and heart intact?
What inspired you to write Sugar and Spice?
When my friend Amy Anguish and I began discussing a novella collection based on the seasons and small-town festivals, my Hallmark movie loving imagination went into over-drive. I love Christmas, but while Christmas does factor into the story, I didn't want my festival to focus on the holiday. I wanted something a little different.
I've always loved quaint little towns, especially those with architecture that looks like it came from a fairy tale. The town directed my choice of festivals. I mean, can you have a German-inspired town and Christmas without gingerbread? They just go together. Besides, I love baking. Having a festival focused on one of my favorite hobbies was a bonus.
What genre do you focus on?
I tend to write contemporary romance. While I enjoy historical, contemporary, and fantasy stories, I'm always drawn to those that include an element of romance. There is something about watching two people fall in love, with all the ups and downs, that leaves readers with a smile. I like that feeling when I read, and I want others to experience it too. Plus, there's a lot of opportunity for a character's soul searching and learning about themselves and their faith when they're navigating romance. It's a great way to spur on character growth.
Why do you write?
I love stories. I always have. To create places that readers want to be part of and characters they'd love to have as best friends is such a special opportunity. To encourage someone through the stories I share in the same way God has used stories I've read to strengthen my faith and touch my heart is an amazing blessing. God gives us all gifts and talents intended to grow, strengthen, and encourage others in their faith. He planted a passion for reading and writing in me, and I want to use what He's given to glorify Him. Writing stories that show character's living their faith, even when they don't get it right sometimes, is how I do that.
Who is your main character, and how did you choose that name?
Emeline Becker is the heroine of Sugar and Spice. I started with the town. Since it has very strong Germanic roots, I wanted that to be the character's heritage as well. I searched German names until I found Emeline, and I knew I would call her Emmie. A search of Germanic surnames gave me Becker which means baker. Could a name be more perfect for a family of bakers?
What is your work schedule like when you're writing a book?
Ha! I wish I had a schedule. I try. I really do. But I'm a fairly laid-back person with a terrible tendency to procrastinate. Not always a great pairing. I try to write every day, even if it's only a couple hundred words. I don't always succeed at that though.
If I'm under a deadline, I'll use a word tracking program to help me divide up my task into daily goals. I determine what days I want to be lighter word counts and which ones I want to hit hard. The program uses that information along with the overall word count and deadline to tell me exactly how many words I need each day. Sometimes, I still fail, but it adjusts for that. And I can't tell you how many times I've logged in, seen that I'm a little short, and then gone back to add a few more words just so that tracker shows I made the goal.
What is the hardest part of being an author?
The part I find most difficult has nothing to do with writing. It's the marketing after the book is complete. I'm an introvert. Approaching strangers or talking to people about what I've done isn't an easy task for me. Just the idea of calling a bookstore to set up a signing or speaking with a radio station about a possible interview makes me nervous. I know all they can do is say no, but it doesn't ease the tension I feel when I think about doing those things.
What's the best part of your author's life?
Telling stories that allow me to share faith while entertaining readers. I love coming away from my favorite stories feeling like I've visited with friends. The idea that someone might feel the same after reading what I've written makes me smile. God has used stories to help me through my darkest times, to grow me in my understanding of Him, and to encourage me in my faith. Knowing that my stories may do that for others is humbling and amazing.
What's one thing your readers should know about you?
All my children are grown, but I still keep a collection of children's books that I add to regularly. I love children's books. And I don't stop with the books. Whenever I go to Kohl's, I check out their Kohl's Cares shelves for children's book character stuffed animals. My newest addition is Llama from the Llama Llama book series.
What is your favorite pastime?
Is there an author who doesn't say reading? Reading is one of my favorites, but I do have others. I love to bake, especially at Christmas. I also like to craft. I'm open to any craft, but I especially like card making and designing buttons.
Do you have other books? We'd love to know.
Yes, I do. My first three books make up the Faith, Hope, and Love series. Faith's Journey, Grasping Hope, and Relentless Love are all categorized as contemporary romance, but the series leans heavily toward women's fiction. That's especially true of Grasping Hope, which was a Selah award finalist.
Cake That! received third place in the Selah awards for 2022, and it is also a contemporary romance. It's all about a televised baking competition and the fun, drama, and romance the main character faces as she takes part in the show.
Love in the Squared Circle is my newest full-length release, also a contemporary romance. It's the story of a single mother of a precocious eight-year-old boy and a professional wrestler. I know. Not your typical Christian fiction hero. But he's perfect for a story about seeing others as God sees them. And you don't have to be a fan of professional wrestling to enjoy it.
What are you working on now?
I'm working on edits for my first historical romance, Window of Opportunity, which releases in January 2023. It's a standalone story set in the 1920s, but it's also the first in a series of full-length novels by four different authors that are tied together through one family and a stained-glass window. There is one set in the 1970s, a contemporary story, and a book set in a dystopian future to finish out the series. I'm really excited about my own story and the series. It's something a bit different that I haven't seen done before.
Website: https://heathergreer.com
Link to book: https://scrivenings.link/loveinanyseason
Social media links:
Pinterest: https://www.pinterest.com/authorheathergreer/
Facebook: https://www.facebook.com/AuthorHeatherGreer
Twitter: https://www.twitter.com/Heather_Greer1
Instagram: https://www.instagram.com/1heather.greer
Follow me on social media!