Meet Martha Rogers
Martha Rogers is a multi-published author and writes a weekly devotional for ACFW. Martha and her husband Rex live in Houston, Texas, where they are active members of First Baptist Church. They are the parents of three sons and grandparents to eleven grandchildren and great-grandparents to four. She is the Director of the Texas Christian Writers Conference, a member of ACFW, ACFW WOTS chapter in Houston, and the writers' group, Inspirational Writers Alive.
Tell us about your newest book.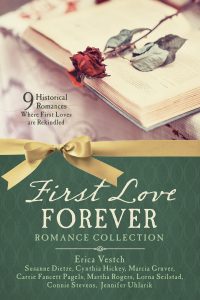 I've had several new releases. The one I'm featuring here is Freedom's Journey. It's about a young woman who has no family or income after her grandmother's death. An old friend of her father offers to pay her passage to America and asks her to be governess to his grandchildren.
(The novella, After the Ball, is in a collection of stories about first loves in First Loves Forever from Barbour. My story is about a wealthy young man working in his father's oil business in Dallas in the early 1900's. His heart is back at the ranch where he grew up and with Susannah, the foreman's daughter and the girl he's loved since his youth.
What genre do you focus on and why?
I generally focus on romance whether it's historical or contemporary, and I have a few cozy mysteries I'm trying my hand on.
Why do you write? What drives you?
I've written for so long that it's simply a part of me. So many stories float around in my head, and I must get them written. Right now, I'm driven by age because I want to get all of the stories written. I'm 81, and I'll write as long as the Lord leaves here on earth. The death of my friend Golden Keyes Parsons reminds me I don't have a say in that timing. Her editor finished the editing on the last book Golden submitted and published it after her death.
Who is your main character, and how did you choose that name?
My main character is Rosemary Beckett. The name sort of came out of the blue when I wrote the first line because it wasn't the name I started with. Rosemary just seemed to fit the person I described in my character chart.
(My heroine is Susannah King, and she's a real cowgirl. I liked the name, and the more I filled in her character chart, the more the name seemed to fit her. She's one who loves to rope and ride with her father and his men, but she also enjoys time in the main house with the hero's grandmother.)
What does a day in your writing world look like?
Oh my. I have to laugh at that because every day is different. I do some chores, check my email, maybe write a bit then go do something else. When I really get involved in my story, I may find an hour or two has passed without a break. Then I get a cup of tea and some chocolate and read back over what I've written. Sometimes it's good, but other times it needs a rewrite.
What is the hardest part of being an author? Why?
The hardest part is promotion and marketing my books. I hate to promote myself, and the ads and other marketing materials run into more dollars than I have to spend. In collections, we can share the cost of publicity and that helps a lot.
What's the best part of your author's life? Why?
I love getting to write down all the stories I've made up. I love to see where my characters are going and what they are going to do. I'm a SOTP writer, so my characters are continually surprising me with what they want to do and say.
What is the craziest thing you've experienced as an author?
It's not really crazy, but I sure laughed at myself. I was in the kitchen cleaning up from supper. I was in a hurry because I wanted to get back to a story and see what was going to happen. I walked into my office thinking, where is that book? Then it dawned on me. I was writing the book and what happened depended on what I wanted to happen.
One funny thing happened with a reader and my first book, Becoming Lucy. The granddaughter of a friend read the book and wanted it autographed. She and my grandson were in the same grade at school and I knew the family from church. After I signed the book, she held it to her chest, and with a starry-eyed look in her eye said, "Mom, Jonathan Rogers' grandmother signed my book. Isn't that awesome?"
What are you most proud of?
How the Lord has blessed us with three sons, nine grandchildren, three grandchildren in-laws, and four great-grans with a fifth due in June. I am so proud of them all and their walk of faith. Our oldest great-grandson was baptized last spring, so the legacy continues.
What is your favorite pastime?
That's funny. If I'm not writing, I'm reading. I used to sew a lot and do scrapbooking, jewelry making and counted cross-stitch, but I haven't done those for a while. Lots of unfinished projects that I plan to get around to doing someday.
Do you have other books? We'd love to know.
I have a lot of books out there. With this book, I have a total combination of 42 novels and novellas. The novellas are in collections and all can be found on Amazon. My first series, Winds Across the Prairie, had six novels including the best-selling Christmas novel, Christmas at Holly Hill.
What are you working on now?
I'm working on a cozy mystery series with senior adult characters like Miss Marple or Jessica Fletcher of Murder She Wrote. Also have a proposal with my agent.
Website: www.marthawrogers
Link to book:
Social media links: Twitter: @martharogers2, Facebook: Martha Lou Rogers and Forget Me Not Romances, Blog: www.hhhistory.com,
Follow me on social media!