Meet Bible study author Debbie W. Wilson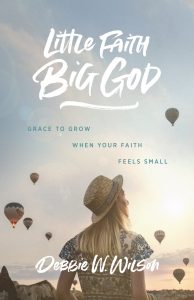 Drawing from her walk with Christ and decades as a Christian counselor and Bible teacher, Debbie W. Wilson mixes insight and encouragement to inspire readers to trust Christ with their lives. Her books include Little Faith, Big God; Give Yourself a Break; and Little Women, Big God. She and her husband Larry founded and run Lighthouse Ministries, a nonprofit biblical counseling, coaching, and Bible study ministry. Find free resources to refresh your faith at debbieWwilson.com.
Tell us about your newest book.
Little Faith, Big God digs into the lives of those in Hebrews 11. God commended these people for their faith—not their striving. They grew just like we do, three steps forward and two back. Those who tend to be hard on themselves will especially appreciate seeing God's grace at work in the lives of these biblical characters.
What inspired you to write Little Faith, Big God?
Because I tend to be critical of myself, I noticed how gracious God was to His children in Hebrews 11 when they stumbled. From working with women, especially over-achievers, I know others live with that inner-critic too. I wanted them to see firsthand how self-condemning thoughts don't come from God. Instead, He amazes us by showing up after we've failed—with amazing grace. He passed the blessing of Abraham to Jacob, the deceiver, right after he tricked his father and cheated his brother. That's grace!
How would you describe this book to someone in a 30-second blurb?
You know how some of us can be hard on ourselves? By digging into the backstories of those named in Hebrews 11, Little Faith, Big God shows believers how to give themselves a break and grow strong in God's grace. These imperfect lives show how God remembers our faith, not our flops.
What genre do you focus on and why?
Christian Living/Bible Study: I was a biblical counselor for 24 years and have taught the Bible much longer than that. I like to help people connect to the heart of God and see how understanding and applying the Scriptures empower our everyday lives.
What is the hardest part of being an author?
For me, it is marketing the book. I'm always looking forward to the next project and am a teacher—not a promoter.
What's the best part of your author's life?
I love that learning and sharing what I learn is my job. Writing helps me process my thoughts and think more deeply on a topic.
What's one unusual fact about you?
I have two standard poodles that make me smile or laugh every day.
How have you changed or grown as a writer?
I think my writing has become cleaner and tighter. When I read some older blogs, I wince. Some are too wordy.
Do you have other books? We'd love to know.
Little Women, Big God looks at the women in Jesus' genealogy. These women faced big problems but discovered a bigger God. They show us quality of life isn't based on the size of our problems but on the size of our God.
Give Yourself a Break addresses ten areas that tend to rob many of us of biblical rest and shows us how to experience God in those areas.
What are you working on now?
I'm working on a follow-up to Little Faith, Big God that explores the lives and lessons of those in Hebrews 11 that didn't fit into my last book. Hebrews 11:34 speaks of those who "from weakness were made strong." What were their weaknesses? What transformed them? And what can we learn from them? At this stage in life, I need the reminder God is enough when I'm weak.
Website: debbieWwilson.com
Link to book: https://debbiewwilson.com/little-faith-big-god/
Social media links:
https://www.facebook.com/DebbieWwilsonauthor/
https://www.pinterest.com/djwwilson/
twitter: @debbieWwilson
https://www.instagram.com/debbiewwilson/
Follow me on social media!