Meet author Tara Taffera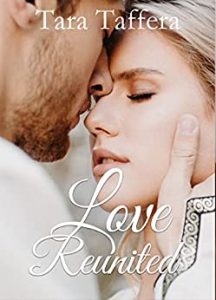 Tara Taffera is an avid reader who writes contemporary Christian romance enveloped in God's grace and love. Love Unfailing, book two in her series, won the silver medal in the 2022 Illumination Book Awards in the romance category. She lives in Virginia with her husband of almost 25 years, who provides valuable advice on her books—all those baseball scenes! He is one of her biggest cheerleaders, along with her three daughters.
Tell us about your newest book.
Elizabeth Carlson turns heads wherever she goes but has never moved on from Tyler Williams, with whom she shared a whirlwind relationship her senior year of high school. After only a month together, Elizabeth ran away from her past and her broken family. Ten years later, Tyler comes crashing back into her life, eager for a second chance. But she can't forgive him for the order he issued all those years ago. Slowly, a high school romance turns into so much more, but her secrets, and his anger, threaten to ruin their happily ever after. Will God's grace and love lead them back to each other?
What inspired you to write Love Reunited?
This is book three in a series, and Elizabeth was a strong character beginning with book one. I was excited to eventually tell her story. I knew she was a strong woman who would have a fascinating tale, though at the time, I didn't know all the details. Coming up with all that was the fun part.
How would you describe this book to someone in a 30-second blurb?
A woman harbors a secret so big it threatens her chance at happily-ever-after.
What genre do you focus on?
I love to read contemporary romance so, that's what I wanted to write. I had the idea for my first book more than 20 years ago, and at the time, it wasn't necessarily a Christian romance. It was actually more women's fiction. When I started writing again, the romantic element became stronger. And when I set a goal for myself and committed myself to my writing, I immediately knew it would be a Christian romance.
Why do you write?
I want to touch people with my stories. For the past several years, I kept thinking, "there is more to life. I have a larger purpose." So when I started writing again, I knew I was called to bring a biblical element to my books.
What is your work schedule like when you're writing a book?
I have a full-time job, so adding in my writing is challenging. I write early in the morning before work and spend much of my weekends writing as well.
What is the hardest part of being an author?
Fitting in writing and the marketing is a full-time job in itself, so it's hard to fit it all into my daily life. And I haven't figured out how to write and market simultaneously. It seems I'm focused primarily on one or the other.
What's the best part of your author's life?
Writing a book and then hearing how much people love it is the best!
What's one thing your readers should know about you?
I'm a super-fast reader! It's a skill that comes in handy, so I can devour book after book. I have always been that way. My mom said she was constantly taking me back to the library to get more books. Now that I write, I read more than ever, although I am busier. It helps me grow as a writer.
How have you changed or grown as a writer?
This is my third book, and with each one, I improve my craft. I know I will make that same statement when I get to book ten. I always want to improve and learn from others.
What is your favorite pastime?
In the past year and a half, it's been working and writing. But I enjoy exercising, and I like to bike with my husband. I have to figure out how to work that back into my schedule. It's a challenge, for sure.
Do you have other books? We'd love to know.
Yes, Love Ordained and Love Unfailing.
What are you working on now? My next book will be a Christmas romance. I only have the first chapter, but once I get through this launch, that will be my focus, and I'm excited. I reread the chapter the other night, and it made me eager to get back to it.
Website: www.tarataffera.com
Link to book: Love Reunited (A Divine Love Book 3) – Kindle edition by Taffera, Tara. Religion & Spirituality Kindle eBooks @ Amazon.com.
Social media links:
https://www.facebook.com/authortarataffera
https://twitter.com/TaraTaffera
https://www.instagram.com/tarataffera/
https://www.goodreads.com/Tara_Taffera
https://www.bookbub.com/profile/tara-taffera
https://www.linkedin.com/in/tara-taffera-b092545/
https://www.pinterest.com/ttaffera/
https://www.tiktok.com/@tarataffera
Follow me on social media!