Meet author Pat Nichols
Pat Nichols draws on her experience to create stories about women facing challenges and triumphs in the pursuit of their dreams. Pat received a 2018 NGCWC Awards for her short story, The Vet and Valentine's Day, and a 2019 Award for Willow Falls series book three. She is a member of ACFW and Word Weavers International. She has been featured on WATC Television Atlanta Alive and in Voyager Magazine
Tell us about your newest book.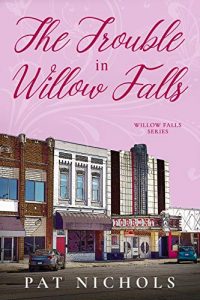 The Trouble in Willow Falls, is the second book in the Willow Falls series. It continues the story begun in The Secret of Willow Inn, about a small North Georgia town struggling to survive. The three primary characters are Emily Hayes, editor of her small-town newspaper and aspiring author; Rachel Streetman, who is finally pursuing her dream to become a stage actress; and Sadie Liles, an ex-con who spent thirty years in prison for killing the town hero.
After waiting for months to hear from publishers, Emily Hayes receives one response—a rejection. When famous artist Naomi Jasper offers her much-needed cash to finish writing, then cast and direct a play about Willow Falls' colorful history, she is forced to make a difficult decision—postpone rewriting her novel or accept the project. After convincing Rachel to partner with her, she agrees to take on the play and realizes failure is an all-too-possible outcome.
Five newcomers and one British tourist test the town's quirky but lovable residents, who dig deep to surmount the conflicts and catastrophes that challenge Willow Falls' small-town charms. But the avalanche of trouble in Willow Falls reminds all its residents of what binds them together: honesty, love, loyalty, and a sense of humor.
What genre do you focus on and why?
During my twenty-seven-year corporate career, in seven different management positions I worked with hundreds of amazing women from all walks of life. Their stories compelled me to choose women's contemporary fiction and create novels about women facing tension-laced challenges and heart-warming triumphs in the pursuit of their dreams. The books in the Willow Falls series are character driven, with dashes of romance, suspense, and comedy.
Why do you write?
My writing journey began in 2014 when a beautiful young woman who had drifted in and out of our lives for thirty years, died tragically. I wanted to write a story based loosely on her life, but with a happy ending. When I told my family, they smiled and encouraged me to take the plunge. Little did they know that decision would launch my second career. What drives me today is the belief God called me to write and the desire to create stories that will go entertainment and in some small way touch my readers' lives.
Who is your main character, and how did you choose that name?
Emily was the main character in The Secret of Willow Inn, while Rachel is the main character in The Trouble in Willow Falls. My first step in identifying names for my characters is researching names popular in their birth years. I prefer names that are easy to pronounce and remember. It's also important they reflect the characters' personalities. For example, Rachel, which in my mind is formal, was raised in the city by wealthy parents. Emily, on the other hand, is more casual. Appropriate for a child who grew up in a small country town. And Sadie, well it's pure southern.
What is your work schedule like when you're writing a book?
After my husband and I retired we became late night people, often staying up past midnight and sleeping to mid-morning. Then the writing bug bit me and I discovered mornings again. Now my phone alarm sounds at five thirty. Sometimes I wake up at five, even earlier. Who knew? After pouring a cup of coffee, I settle in the recliner in my living room, read a devotion, and spend a few minutes in prayer. Then, I turn on my computer—yes, I write in a recliner—and begin working toward my weekly objective to complete 5000 words. The discipline and goal setting come from my years in the corporate world. Old habits sometimes come in handy. Throughout the day, I take breaks to engage in social media and connect with readers and other authors. When I finish a chapter, my sweet husband of fifty-plus years listens and provides feedback. He has amazing insight for a guy who hasn't read a novel since he graduated from school.
What's the best part of your author's life?
Other than writing, I most enjoy engaging with other authors and readers. Why? Connecting with the community of authors through ACFW, Word Weavers, and at conferences inspires me to continue to enhance my skills and perfect my craft. Although perfection is never reached. When it comes to readers, I love sharing my story, answering their questions, and hearing their perspectives. It is especially fun to talk to book club members who have read one of my books.
What's one thing your readers should know about you?
I'm a mother of two and grandmother of four, one precious granddaughter is with the angels. I'm married to my high-school sweetheart and have never driven his Corvette. My choice, not his.
How have you changed or grown as a writer?
A dear friend, who is a published author, edited my first manuscript and gently pointed out all the novice mistakes I'd made. My first rejection, so to speak. Again, my corporate experience enabled me to accept her feedback as a wake-up call and a blessing. Although God planted the seed to write, He knew it needed a lot of watering. So, I read everything I could find, took some courses, and attended conferences. My sister, a former English teacher, recently complimented my maturity as an author. Those few words warmed my heart and made all the time I spent studying worthwhile.
What is your favorite pastime?
Other than reading, occasionally tackling a jigsaw puzzles, and working Sudoku when riding in a car, I most enjoy spending time with my husband, family and friends.
Do you have other books? We'd love to know.
The Secret of Willow Inn, book one in the Willow Falls series, released in January 2019. I'm thrilled my publisher released books one and two in the same year.
What are you working on now?
My current work in progress is book four in the Willow Falls series. Book three is with the publisher and scheduled for release later this year. I'm considering taking a short break from the series and re-writing my first manuscript. The one with all the mistakes.
Website: https://patnicholsauthor.blog
Link to book: https://www.amazon.com/Trouble-Willow-Falls/dp/1645262715
Social media links: https://www.facebook.com/pat.nichols.52459
https://twitter.com/PatNichols16
https://www.instagram.com/patnicholsauthor/
Follow me on social media!