Meet author Margie Wood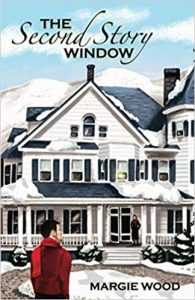 A long time Colorado resident, Margie Wood loves Victorian mansions and the rich history of the State. Margie's happy places are sipping tea with good friends while dressed in Victorian fashions, and writing retreats in the majestic mountains.
Tell us about your newest book.
Escaping the Tunnel is the second book of the Rose Haven Journals series
What inspired you to write this book?
Escaping the Tunnel came from a desire to write about people that suffer from PTSD. In Book 1 Amelia Richardson suffered great trauma and I wanted the readers to understand her "real life" repercussions.
How would you describe this book to someone in a 30-second blurb?
There's no doubt in Amelia Richardson's mind that she loves Matthew Chandler and wants to spend her life with him. But how can she heal from the trauma of the past? And does she blame Matthew?
What genre do you focus on?
Inspirational Suspense with a hint of romance.
Why do you write?
I love creating characters and putting them in real life situations. I ask God for inspiration and creative ideas and I believe they come out in my stories. It's my great desire for my readers to experience God's freedom and truth.
Who is your main character, and how did you choose that name?
Amelia Richardson – to fit with the historical thread of the story, I wanted a fairly "old fashioned" name. Amelia seemed to work perfectly. For last names I looked through a genealogy book that belonged to my dad's Kansas family and liked the way Amelia Richardson sounded.
What is your work schedule like when you're writing a book?
I write three to four days a week. Mornings seem to work best for me.
What is the hardest part of being an author?
Time management is a huge challenge for me. Like many authors I also work a part-time job and I'm a caregiver for my elderly mother.
What's the best part of your author's life?
It was so exciting to hold the print version of my first book The Second Story Window in my hands. It was a dream come true.
What's one unusual fact about you?
For many years I've dreamed of writing and publishing a novel. It finally came to life when I was 65 years old. Don't ever give up on your dream. I'm a living testimony that it's never too late!
How have you changed or grown as a writer?
Oh my goodness…I'm definitely more confident and bold. I've been working on this with the Lord for a few years and He's answered my prayers in some amazing ways!
What is your favorite pastime?
Jigsaw puzzles, reading historical fiction, walking while listening to podcasts about writing
Do you have other books? We'd love to know.
The Second Story Window Book 1 of the Rose Haven Journals released in Nov 2019.
What are you working on now?
Escaping the Tunnel (book 2) will release Early 2022
Website: Margiewoodwrites.com
Link to book:
https://www.amazon.com/Second-Story-Window-Haven-Journals/dp/1733180214/ref=sr_1_1?crid=32OLG80OJRA8&keywords=The+second+story+window+margie+wood&qid=1645662620&sprefix=the+second+story+window+margie+woo%2Caps%2C340&sr=8-1 media links:
Follow me on social media!