Meet author Jen Turano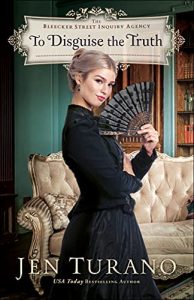 Named One of the Funniest Voices in Inspirational Romance by Booklist, Jen Turano is a USA Today Best-Selling Author, known for penning quirky historical romances set in the Gilded Age. Her books have earned Publisher Weekly and Booklist starred reviews, top picks from Romantic Times, and praise from Library Journal. Readers may find her at www.jenturano.com – https://www.facebook.com/jenturanoauthor/  https://www.instagram.com/jenturanoauthor/
Tell us about your newest book.
To Disguise the Truth is the third and final book in the Bleecker Street Inquiry Agency series, but it may be read as a standalone. It revolves around Eunice Holbrooke, a mysterious lady who hides beneath widow's weeks, and has secrets from her past she isn't keen to divulge – until Mr. Arthur Livingston shows up out of the blue, wanting to hire her agency to find a missing heiress. Que the start of some very interesting chaos.
What inspired you to write To Disguise the Truth?
I always turn in a book proposal to my editing team before I begin writing a new series. I wasn't exactly certain where this last book was going to go, but once Eunice showed up in book one, "To Steal a Heart," I realized she was going to have to have a fairly interesting backstory. She is the owner of the Holbrooke Boardinghouse, and it's the ladies in that house who form the Bleecker Street Inquiry Agency. Eunice is the character who flits through the first two books, and as she did that flitting, her story kept changing. Thankfully, by the time I began writing her story, I knew I wanted to write a book about forgiveness, as well as embracing your truth, and that's what inspired a good portion of the entire book. I mean, it's a Jen Turano book so there's a lot of mayhem to get to those truths, but that's what made it a fun book to write.
What genre do you focus on?
I write historical romantic comedies set in the Gilded Age, and I write these because I have a very odd sense of humor, which comes in handy since I write comedy, and the Gilded Age has provided me with mountains of fodder for stories.
Who is your main character, and how did you choose that name?
Eunice Holbrooke is the heroine of my latest book. I chose her name because everyone has this preconceived notion about who a Eunice should be and…I like to twist preconceived notions around and give readers a name that is at complete opposites for who my character actually is.
What is your work schedule like when you're writing a book?
I usually write for at least eight hours a day, Monday through Friday. This changes to eighteen hours or more when I'm on a tight deadline or finishing up a first draft. That's the only time I work on the weekends, but when I get to that point in a story, I just have to finish because the entire ending of the book is unfolding in my head and I won't be able to sleep until it's down on the page.
What is the hardest part of being an author?
The hardest part for me is simply juggling everything. Unlike when I was writing for fun, contracts come with obligations. I have deadlines, but while I'm writing a first draft for a new story, I'll have edits come in for a previous story, sometimes more than one story. Then I always have a release mixed in there as well, so it was difficult for me at first to not allow the writing part of my life to take over everything. I've recently cut back from releasing two books a year to releasing one every nine months, and for now, I have time to breathe. With that said, I've gotten a little bored, so I might rethink my schedule again.
What's the best part of your author's life?
I know this sounds cliché, but the readers are really the best part. I love interacting with them and hearing their stories. I've really missed being able to go to reader retreats during this horrible pandemic.
One unusual thing about me?
Hmmm….I have so many. I'm a bit of a weirdo, and contrary to what most people think about authors, I'm not an introvert – more on the lines of a social butterfly.
How have you changed or grown as a writer?
I think most authors grow as they spend more time in the business. Working with an editing team has allowed me to pick up on some of my bad habits – you know, too much backstory or history dumps (okay, I still do this, but the Gilded Age is fascinating.) Also, with every story, I tweak my writing style because I always want to produce a book that's fresh and not like my previous books.
What is your favorite pastime?
Walking on the trail. I used to jog, but I'm getting old, so power-walking it is, unless my dog spots a deer, then it's a downright run.
Do you have other books? We'd love to know.
I have a lot of books published through Bethany House. Here's the list:
Ladies of Distinction Series
Gentleman of Her Dreams (an e-novella)
A Change of Fortune
A Most Peculiar Circumstance
A Match of Wits
A Class of Their Own Series
After a Fashion
In Good Company
Playing the Part
Apart From the Crowd Series
At Your Request (an e-novella)
Behind the Scenes
Out of the Ordinary
Caught by Surprise
Grand Encounters (featured in the Serving Up Love novella collection)
American Heiresses Series
Flights of Fancy
Diamond in the Rough
Storing Up Trouble
The Bleecker Street Inquiry Agency
To Steal a Heart
To Write a Wrong
To Disguise the Truth
What are you working on now?
I'm working on the second book in a new series – The Matchmakers. The first book is tentatively titled "A Match in the Making" and this second book is tentatively titled "To Spark a Match."
Social media:
Website:  www.jenturano.com
Link to book:  To Disguise the Truth | Baker Publishing Group
Social media links: @jenturanoauthor  – Instagram
www.facebook.com/jenturanoauthor – Facebook
Follow me on social media!