Meet author Linda Hoover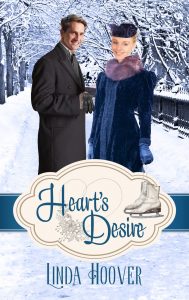 Linda Hoover lives in west central Ohio. She earned a degree in psychology from Anderson University where she learned the voices in her head were actually characters from stories waiting to be told. Linda got her start writing columns and a middle grade serial for the South Charleston Spectator. As a recently retired librarian, she enjoys being a fulltime author in her home office, despite interruptions from family members and pets.
Tell us about your newest book.
In 1880 Boston, Julia Phillips's father betroths her to wealthy Lucien Harris to cover up a tragic secret. She wants to marry Jacob Anderson, but her family will be ruined if she doesn't comply. Will God make a way for Jacob and Julia to have their heart's desire?
What inspired you to write Heart's Desire?
I aspire to make my faith-based stories fun and entertaining, as well as encouraging. In this book,
my hero and heroine came to mind first. They want to be together but she's upper class, he's middle. So, the challenge is to take them on their journey from hopeful beginning to happy ending while dealing with all the obstacles, and there are several, along the way. When I researched what city to set the story in, I was drawn to Boston, which I love for its Revolutionary War ties, and for all the activities the characters could be involved in. I had a lot of fun writing this story.
What genre do you focus on and why?
I focus on historic romance. I've always been interested in history, especially the 1880s to 1920, and I enjoy a story with romance. I can get lost doing research, usually acquiring much more information than I need. The clothes they wore and the activities they participated in are fascinating. I'm not saying I'd want to live in the past, but it's fun to write about it.
Why do you write?
I've had stories in my head since I was little and started writing them down when I was eleven or twelve. This probably sounds crazy, but I get frustrated and cranky when I can't spend time writing. The stories need to be told.
Who is your main character, and how did you choose that name?
My main character is Julia Phillips. I can't point to an exact reason for choosing her name other than it fits her. Her personality and appearance say Julia.
What is the hardest part of being an author?
I'd say the hardest part is being pulled in so many directions. I would be happy spending all my time writing, but I also need to keep up with social media connected to my books, send out newsletters, and generally deal with the business end of writing. I could spend days reading books and articles on the craft of writing. And then there's a little thing called "Life."
What's the best part of your author's life?
The best part is creating stories people can enjoy and hopefully be encouraged by. Since I retired, my favorite place to be is my home office.
How have you changed or grown as a writer?
I'd like to believe my writing has gotten better. When I look back at earlier works, it makes me cringe. I know so much more about the craft of writing than I did to begin with.
What is your favorite pastime?
I love to read adult and young adult historic fiction, but fantasy is also a favorite.
Collecting recipes and trying new foods, especially desserts, is something else I enjoy.
Do you have other books? We'd love to know.
My first book is Mountain Prophecy, a young adult novel set in the Appalachians in 1918.
Lighter Than Air is an adult historic set near Brighton, England, in 1900.
Heart's Desire is my newest book and is set in Boston, 1880. It's the first book in the Heart's Desire series.
What are you working on now?
Right now, I'm working on Heart's Journey, the next book in the series. I'm also working on a novella to give away to readers who subscribe to my newsletter.
Website: http://www.lindahooverbooks.com
Link to book: http://www. amazon.com/author/lindahoover
Social media links: www.Facebook.com/lindahooverauthor
Follow me on social media!