Meet author Candy Arrington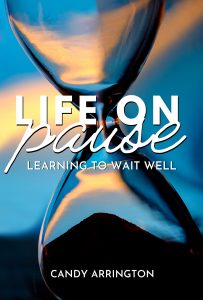 Candy Arrington is a writer, blogger, and speaker. She frequently writes on the topics of faith, health, personal growth, andmoving through, and beyond, challenging life circumstances. Candy has over twenty years of experience writing for publication. Her publishing credits include three nonfiction books and hundreds of articles, stories, and devotionals in numerous print and online outlets. Read Candy's blog, Forward Motion, on her website https://candyarrington.com/
Tell us about your newest book.
Life on Pause is one of those books you can't successfully write until you've lived it. From traffic jams to extended life pauses, most of us don't handle waiting well. We're frustrated by having our plans and goals put on hold and chafe at delays. In learning how to approach waiting with patience and trust, we are able to view waiting as a gift rather than a burden. As a bonus, contributor stories provide insights on waiting well.
What inspired you to write Life on Pause: Learning to Wait Well
My husband and I have experienced many seasons of waiting during our 40-year marriage. Some were prolonged waiting periods, others days or weeks. It was during these times that we learned to trust God, relinquish control, practice patience, and not rush ahead when God says wait. Following our most recent life pause, I wrote an article for CBN.com. Later, I used that article to pitch the book idea to a publisher.
How would you describe this book to someone in a 30-second blurb?
We live in a world of drive-thru dining, instant information, and next day delivery, so we find life pauses frustrating. Instead, perhaps we need to view waiting as preparation for the next opportunity, a time to develop patience and perspective.
Why do you write?
I write because I can't not write. God provides ideas, outlines, words, sentences, paragraphs and I would be disobedient if I didn't follow through with writing what he gives me.
What is your work schedule like when you're writing a book?
Mornings are my most creative and productive time, so I try to take advantage of that as much as possible. However, I've learned to utilize even small snippets of time instead of waiting for uninterrupted hours that sometimes don't happen.
What is the hardest part of being an author?
Discipline. Many responsibilities and activities vie for my attention. It's often tempting to let writing slide to the bottom of the list when other endeavors seem urgent. Giving writing the necessary time requires discipline and prioritizing.
What's the best part of your author's life?
The best part of my writing life is having readers tell me my words helped them navigate challenging circumstances and gave them hope. When I hear from readers, it encourages me to keep writing the topics God lays on my heart even if they are difficult.
What's one unusual fact about you?
When I was a teenager, I traveled to Rhodesia (now Zimbabwe), Africa with my college-age cousin to visit his missionary parents and family. I was there for a month and saw amazing sites—Victoria Falls, Wankie Game Reserve (now Hwange National Park), and flew via helicopter to a mission hospital located in "the bush." I'm so thankful I had the opportunity as a teen to visit this part of the world.
How have you changed or grown as a writer?
When I first began writing, I thought I could write everything—poems, children's books, devotionals, fiction, nonfiction. After attending several writing conferences, I learned I had a lot to learn! In the last twenty years, I have narrowed my focus to nonfiction, discovered my best topics, and found my writing voice.
Do you have other books? We'd love to know.
Aftershock: Help, Hope, and Healing in the Wake of Suicide (B & H Publishing Group)
When Your Aging Parent Needs Care: Practical Help for this Season of Life (Harvest House)
What are you working on now?
Currently, my focus is on promoting Life on Pause, but I am also considering several topics for another nonfiction book.
Website: https://candyarrington.com/
Link to book: https://amzn.to/3xvcYuP
Social media links:
Facebook: https://www.facebook.com/Arrington.Author
Twitter: https://twitter.com/CandyArrington
Instagram: https://www.instagram.com/candyneelya/
Follow me on social media!