Meet author Kathy Collard Miller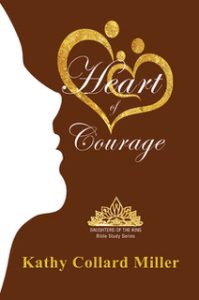 Kathy Collard Miller is still amazed at God's work in delivering her from her abusive anger and then opening doors to share her story through writing and speaking. She is the author of fifty-nine books including Heart of Courage: Daughters of the King Bible Study Series. She has spoken in nine foreign countries and over thirty US states. She and her author husband, Larry, are parents, grandparents, co-authors, and lay counselors who live in Boise, Idaho.
Tell us about your newest book.
Heart of Courage is a ten lesson women's Bible study with write-in questions along with commentary giving intriguing background information for the text. Each lesson delves into different areas of life where courage is needed, including serving in family & church, standing against unbiblical opinions, facing temptation, representing God and opposing evil. Also, how Jesus was courageous. This study is perfect for individual study and groups.
What inspired you to write Heart of Courage?
I tend to be a people pleaser and a more timid person. I knew God promised He would give courage to His people for the assignments He gives them. I wanted to have that courage in my life so that I could serve and represent Him with greater boldness and confidence. What better way to study courage than to write a Bible study which could also be added to the other Bible studies in my "Daughters of the King Bible Study Series."
How would you describe this book to someone in a 30-second blurb?
Today more than ever, we need greater confidence and boldness to represent God in our family, church, community, and through social media. We know God promises He will give us courage but exactly what does that mean? This women's Bible study examines how God empowered biblical characters to take ahold of that confidence and also apply biblical principles for wisdom in responding to life's challenges.
What genre do you focus on?
Nonfiction Christian living including spiritual growth, Bible studies, commentaries and compiled books.
Why do you write?
Ever since I first tried to write a novel in middle school, I sensed a love for words and expression. I loved sitting at my roll top desk and writing down my thoughts and ideas. I still have the autobiography I wrote in middle school for a class assignment. Little did I know God was developing my skills which also included being editor of my high school newspaper, for which I wrote my first column. I became a Christian at age 18. After 7 years of marriage, God delivered me from my abusive anger and healed our dysfunctional marriage. Then He opened doors for me to share at my church's young mom's group and then at other churches. He also led me to write my story in an article and then in my first book (now updated and titled No More Anger: Hope for An Out of Control Mom). Since then, through my personal Bible study and God's continuing sanctification of my relationship with Him, I write about what God is teaching me even after walking with Him for over 5 decades.
What is your work schedule like when you're writing a book?
I'd rather be at my desk writing than almost anywhere else—except being with my two grandchildren. Choosing to write isn't hard and I always have more ideas than time will allow.
What is the hardest part of being an author?
I personally love to write and have a harder time being involved in marketing. I'm not a natural artist so my efforts at creating motivational and effective materials is the most challenging for me. Thankfully, God has provided several capable people to help me over the years.
What's the best part of your author's life?
Receiving feedback from readers is a highlight. My first article telling my story came out in 1978 and my first book telling my story came out in 1984.  In those days—long ago—there was only US mail, not email, etc. I remember getting letters from many places in the world, including The Sultanate of Oman. Who would have expected that?
And then much later, I had opportunities of connecting with women whose children are now grown, and they would tell me how my books and speaking helped them become a better mother. Of course, all these wonderful things are bonuses. I'm still, though, hoping that I will one day walk in a public place like an airport and see someone reading one of my books. I can't wait to interrupt her and say, "Hi. I'm the author of that book. Would you like me to autograph it?" I don't know if that will happen but I hope so.
What's one unusual fact about you?
When I'm asked this question, it's fun to pick from two possible answers: I've sky jumped out of a plane (tandem, of course). The other is my first epileptic seizure was at a patio restaurant at the base of The Parthenon in Athens, Greece, when I was 66 years old. I'm so grateful I received excellent care from Greek doctors.
Do you have other books? We'd love to know.
Thank you for asking! I can't name all 59 but here are the most recent:
What are you working on now?
I'm now working on the next book in my "Daughters of the King Bible Study Series." It will be on marriage. Heart of Courage is the 5th book in the series and the one on marriage will be #6. There will be a total of 12 books in that series. The topics of the published studies are prayer, women of the Bible, the Proverbs, and friendship.
Website: www.KathyCollardMiller.com
Link to book: https://www.amazon.com/gp/product/1649495137/
Social media links: access them at https://linktr.ee/kathycollardmiller
Follow me on social media!