Meet author Jodi Bowersox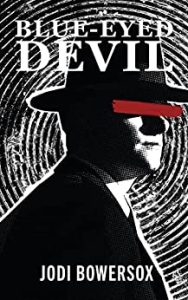 No boxes for Jodi Bowersox. She has been an actress, seamstress, designer, business owner, homeschool teacher, choir director, and artist, so it's only natural that her award-winning writing would take on an eclectic flare as well. Her romance novels span genres from faith fiction to suspense to time travel to sci fi, with small town, big city, and interplanetary settings. She has also written children's books under the name J.B. Stockings. A number of her books have won Colorado Authors League Awards, Colorado Independent Publishers Association Awards, and a Colorado Book Award. She has also been named a finalist in the Killer Nashville Silver Falchion Awards and The American Fiction Awards. Jodi lives in the heart of Colorado Springs with her husband and too many cats where they never get tired of looking at the mountain views.
Tell us about your newest book.
Blue-Eyed Devil is the fourth book in my Anonymous Series and tells the continuing story of sex trafficker Justin Miranda. He was captured in book 2 (The Diamond Diva Vendetta) and has agreed to help the Feds in exchange for a reduced prison sentence. Going undercover, he is trying to work his way into a trafficking ring in Kansas City that uses a house cleaning service as a front. All is going to plan until a glitch in his ankle monitor gives him a chance at freedom.
What inspired you to write Blue-Eyed Devil?
It is part of a continuing series, but I could have left this user of women rotting in prison. I decided to bring him out instead, and see if he could be rehabilitated. To find out what it would take, I had to dig back to find out why this handsome man became a trafficker in the first place, and then challenge his every misconception with women who broke the mold he had in his head.
How would you describe this book to someone in a 30-second blurb?
Justin Miranda's career as a sex trafficker was over, and a long prison sentence seemed inevitable. His insider knowledge, however, gave him a chance to work with the FBI outside prison walls. Getting back in the game isn't easy, however. Dani Harper made an impression he couldn't easily shake. She put cracks in his firm belief that all women were liars and manipulators. Then came Mina. She was just the cleaning lady. Just a woman he was supposed to seduce to move his way up in the company. How is it possible that she changes everything?
What genre do you focus on?
If you read my bio, you know I don't focus on one genre, although all of my novels could be put under the big umbrella of clean romance. So, I guess the question for me is why DON'T you focus on one particular genre? The short answer is that I get bored. The better answer is I love reading a variety of genres, so why not write in them too? Each series I have is different—contemporary romance, time-travel romance, romantic suspense, and humorous romantic sci fi. Maybe the best answer is that I like a good challenge.
Why do you write?
I've been a writer my whole life, I think. I was the news reporter for several different 4-H clubs as a kid. They kept re-electing me because I actually enjoyed doing it, and I was good at it. I went on to writing very bad poetry, then slightly less-worse poetry, then tried my hand at a play. That led to a number of children's productions and skits for my church and homeschool group. Having kids inspired some children's stories, and finally I sat down one day in 2011 and started a novel. I've been obsessed ever since.
What is your work schedule like when you're writing a book?
I am currently the president of the Colorado Authors League, so all of my time is not my own right now. I write whenever I can squeeze it in.
How have you changed or grown as a writer?
I think there's value in trying different genres and different styles. I think Mystery is the most difficult. It's a real challenge to lay down clues without giving it all away too soon. And if you want to twist your brain into absolute knots, write time-travel where the characters jump around a lot in time. I wrote the Mars series solely because I had a character in the Rocky Mountain series who was an author, and I attributed the titles to her. I thought later it would be fun to write her books. I had to really boost the humor, and it was so much fun.
What is your favorite pastime?
Writing, of course! I am also a watercolor pet portrait artist and a seamstress
Do you have other books? We'd love to know.
Rocky Mountain Series—Rocky Mountain Angels, Rocky Mountain Sunrise, Rocky Mountain Redemption, Rocky Mountain Destiny, and Rocky Mountain Calvary
Lightning Riders Series—JOLT, JUMP, and JIVE
Tripping on Mars Series—Mars Madness, Beware the Eyes of Mars, and The Mars Heir
Anonymous Series—Cinnamon Girl Explains It All, The Diamond Diva Vendetta, Red Rabbit on the Run, and Blue-Eyed Devil
Stand-alones—Interiors By Design and Horses, Adrenaline, and Love
Chosen and other plays, productions, and skits
Ephesians: The plan, the purpose, and the Power
I also have children's books under the name J.B. Stockings
A Tale of Two Kitties
The Stubborn Princess
Sing-a-Story books—Up In The Air, Out In The Field, and Little Brown Horsey
Cats (Hopefully published soon)
Going Home (Will be published by spring)
What are you working on now?
My time-travel romance series (Lightning Riders) is my most popular series, so I went back to that one to add in a spin-off series with a couple of the characters. I don't yet have a title, which is weird for me. The working title is just Time Agents, but I'm sure I'll come up with something better. I also have several children's books in various stages of completion.
Website: https://jodibowersox.com/
Link to book: https://www.amazon.com/Blue-Eyed-Devil-Contemporary-Romantic-Thriller-ebook/dp/B09FNT5GZQ/
Social media links: https://www.facebook.com/JodiBowersoxArtistry
Follow me on social media!