Meet author Denise Weimer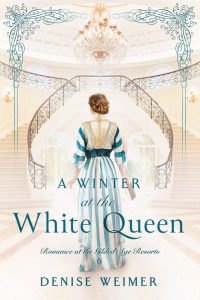 North Georgia native Denise Weimer has authored a dozen traditionally published novels and a number of novellas—historical and contemporary romance, romantic suspense, and time slip. Having served three years as managing editor for Lighthouse Publishing of the Carolinas' two historical imprints, as well as a freelance editor, she's helped other authors reach their publishing dreams. A wife and mother of two daughters, Denise always pauses for coffee, chocolate, and old houses.
A Winter at the White Queen is novella #1 in the Romance at the Gilded Age Resorts, Wild Heart Books. **I'm happy to mention that Susan G Mathis will be joining us for this series in July!**
Tell us about your newest book.
Things are never quite as they appear.
Ellie Hastings is tired of playing social gatekeeper—and poor-relation companion—to her Gibson Girl of a cousin. But her aunt insists Ellie lift her nose out of her detective novel long enough to help gauge the eligibility of bachelors during the winter social season at Florida's Hotel Belleview. She finds plenty that's mysterious about the suave, aloof Philadelphia inventor, Lewis Thornton. Why does he keep sneaking around the hotel? Does he have a secret sweetheart? And what is his connection to the evasive Mr. Gaspachi, slated to perform at Washington's Birthday Ball?
Ellie's comical sleuthing ought to put Lewis out, but the diffident way her family treats her smashes a hole in his normal reserve. But when Florence Hastings' diamond necklace goes missing, Ellie's keen mind threatens to uncover not only Lewis's secrets, but give him back hope for love.
What inspired you to write A Winter at the White Queen?
My author friend Jennifer Uhlarik actually birthed the idea for a collection of stories set at Florida's Gilded Age hotels. We were so close to getting that collection green-lighted that I saw a window open in my schedule and wrote the story set at my assigned hotel, the Belleview, on faith.
Well, things did not move forward with the anticipated publisher, and my novella sat all lonely and forgotten for quite a while. When I read back over it, I thought, hey, this is a fun story! Even a little humorous, and at the same time, touching. It needs to get out there. So, I contacted Misty Beller at Wild Heart Books, for whom I've been doing some editing. I was overjoyed when she not only liked the idea, but she decided to publish White Queen as book one in a two-year series of novellas about Gilded Age romance at resorts all over the county!
How would you describe this book to someone in a 30-second blurb?
Oh, it's a whirl back to the age of wonder, when anything seemed possible but the old ways struggled with the new. A romance between two people who'd feared it was too late for love.
Why do you write?
I write because I believe when God gives you a talent or a clear calling, that calling is irrevocable unless God makes it plain that He wishes otherwise. And because writing beautiful stories for Him brings me the most fulfillment of any "work" I could ever do. Interestingly enough, I feel the same way about editing. It's not always easy to make an income in this field, but there is certainly nothing more satisfying than doing what you know you were made to do.
Who is your main character, and how did you choose that name?
I try to name my hero and heroine using a combination of searching through period names and what suits their character. I thought Ellie Hastings sounded fair and gentle and Lewis Thornton sounded polished and powerful. Ever seen/read Anne of Avonlea? Think Morgan Harris.
What is the hardest part of being an author?
The marketing. I love designing attractive memes, planning special events, and interacting with wonderful readers both at online and in-person events, but there is also an element of risk both financially and personally in getting the word out about your stories. So please be kind to us introverted authors! LOL
What's one unusual fact about you?
I used to lead a mid-1800s dance group. We performed elegant waltzes, reels, and quadrilles at festivals and historic sites. The initial demands of book signings and sporting events for my daughters hit at about the same time, and I took a step back from the living history. But now, I'm getting my toes wet again, finding creative ways to combine my love of historical fashion and dance with my book promotion.
Do you have other books? We'd love to know.
Yes, indeed!
Historical fiction: The Georgia Gold Series
Dual time period: The Restoration Trilogy
Contemporary romance: Fall Flip, Spring Splash, A Holiday Heart, A Harvest Heart
Contemporary romantic suspense: A Holiday Intruder of Holly, Ivy & Intrigue, Traces
Historical romance: Redeeming Grace, Across Three Autumns of The Backcountry Brides, The Witness Tree, Bent Tree Bride
Plus several more currently under review by publishers! Praying, praying …
I would love to connect with you on social media or through my author newsletter. https://webs.us19.list-manage.com/subscribe?u=16c561f75e5036405879c9836&id=b58acc62a5
https://www.facebook.com/denise.weimer1/
https://www.bookbub.com/profile/denise-weimer
https://twitter.com/denise_weimer
And please, if you enjoy A Winter at the White Queen, consider leaving a review online. Reviews helps publishers know that my stories deserve to reach my wonderful readers. May God bless you!
Follow me on social media!