Meet author Cindy Ervin Huff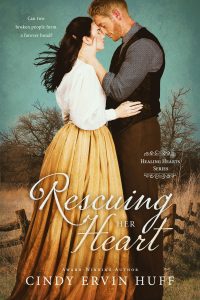 Cindy Ervin Huff is an award-winning author of Historical and Contemporary Romance. She loves infusing hope into her stories of broken people. She's addicted to reading and chocolate. Her idea of a vacation is visiting historical sites and an ideal date with her hubby of almost fifty years would be going to the theater.
Tell us about your newest book.
As her husband's evil deeds haunt a mail-order bride from the grave, can she learn to trust again and open her heart to true love? Jed has his own nightmares from a POW camp and understands Delilah better than she knows herself. Can two broken people form a forever bond?
What inspired you to write Rescuing Her Heart?
I watched someone close to me have her life torn apart in a terrible relationship. And her now husband helped build her trust and loved her despite her past. He is a veteran with PTSD and he too has worked to put his life back together. I took the bones of their story and set it in 1870 Kansas. My what if moment revolved around a bad mail-order bride marriage and it developed from there.
How would you describe this book to someone in a 30-second blurb?
Rescuing Her Heart takes place in 1870 Kansas. Delilah made the biggest mistake of her life when she answered an ad to become a mail-order bride.
Lemont was nothing like his lovely letters. His cruel, controlling ways crushed her soul and spirit. When he died, she had no tears for him and a determination to never let a man have control over her again. Jed knows what it's like to experience trauma. He takes it upon himself to help Delilah overcome her fears and learn to trust again. Can he keep the woman he's falling for safe when he late-husband's past comes calling.
What genre do you focus on and why?
Historical Romance, I also write contemporary romance. I love reading a good happily-ever-after. But I want to learn something I never knew and be inspired by the characters growth. That is what I write. Many relationships in the real world fail because baggage from the past taints the present. A novel that stays true to the theme at its center can be life changing for the reader. As a Christian I want to give readers hope in my writing. The verse that forms my themes of hope in my novels is Ecclesiastes 3:11 "He makes all things beautiful in His time…" (KJB)
Why do you write?
From childhood stories formed in my mind. It took me years to find an outlet for them. I've written scripts, short stories, articles and column for decades. Then when I turned fifty, God called me to write novels. It took years of learning the craft and many rejections. At sixty, my first book Secrets & Charades was published. I'll soon be sixty-six and my ninth novel is complete. And my fifth novel releases in October. I'm in it for as long as God desires.
Who is your main character, and how did you choose that name?
Jed Holt and Delilah James. Jed was a secondary character in my novella Healing Hearts in The Cowboys collection. His full name is Jedidiah, but he prefers Jed. Delilah's name seemed fitting considering how much shame she carries at the beginning of the story. But Jed gives her the nickname Dee, a new name for a new life.
What is your work schedule like when you're writing a book?
I get up early, sort out email, then write words until I have no more to write. I can generally write 1,000 words a day. Mornings are my most productive time, because that's when I'm firing on all cylinders.
What is the hardest part of being an author?
Marketing. I have a hard time promoting myself. But marketing is necessary to sell books so I soldier on.
What's the best part of your author's life?
Seeing my story in print with a wonderful cover. And people wanting to read my books. God called, and seeing readers enjoying my work reminds me why I do this.
What's one thing your readers should know about you?
I grew up as an Air Force brat. I was always the new kid. So, I learned to put myself out there to find friends, knowing in a few years we'd move to another place. Because of that experience I don't know a stranger. I love meeting new people.
How have you changed or grown as a writer?
I am getting better at editing my own words, so what I give my critique partners now gets a deeper edit. That makes me a better writer. I've met some phenomenal writers who've inspired me not only in craft but my walk as a Christian.
What is your favorite pastime?
Reading. I'm addicted. I love walking with my husband and spending time with him. And coloring relaxes me and releases tension.
Do you have other books? We'd love to know.
Yes, my historical romances are Secrets & Charades, Healing Hearts, my novella in The Cowboys collection and Angelina's Resolve will release October 15th. It is the first in my new series Village of Women. The only contemporary romance presently in print is New Duet. Type my name in the Amazon search bar and you'll find them all. They are all available in e-book. Secrets & Charades and New Duet are available in audiobook. Rescuing Her Heart and The Cowboys are being produced as audiobooks too.
What are you working on now?
I'm editing Cherishing Her Heart the sequel to Rescuing Her Heart. I'm starting book 2 of Village of Women
Website:
Link to book: https://www.amazon.com/Rescuing-Heart-Healing-Hearts-Book-ebook/dp/B092SR6B5Y/
Social media links:
https://www.facebook.com/author.huff11
https://www.instagram.com/cindyervinhuff/
https://twitter.com/Cindyhuff11Huff
https://www.bookbub.com/profile/761142963
My website: www.cindyervinhuff.com
Follow me on social media!