Meet author Carla Hoch
Carla Hoch is the author of the Writer's Digest book Fight Write: How to Write Believable Fight Scenes. Her blog, FightWrite.net, is #11 in Writer's Digest Top Websites for Writers 2019, a CAN Gold Crown Award winner and has a companion FightWrite podcast. Carla has training in almost a dozen martial arts and regularly teaches classes on the craft of writing fight scenes as well as the mechanics of fighting for writers.
Tell us about your newest book.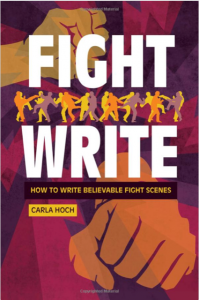 Fight Write: How to Write Believable Fight Scenes is the go-to writer's resource for violence of any sort. It has an index of fighting styles and fight terminology and helps you pick a fighting style for your character.
What inspired you to write your book?
The book started as the FightWrite blog. People asked so many questions that I thought, hmmm, I wonder if I could write a book on this…
How would you describe this book to someone in a 30-second blurb?
It is a writer's go-to reference for the craft of writing realistic fight scenes and violence.
What genre do you focus on and why?
Because the book covers so many things, it can really be used by all genres. Yes, even if you write Amish romance, you could use this book. If Jedediah gets bitten by a copperhead, the FightWrite book will tell you what's in store for him.
Why do you write?
I'm a writer. I have to write. All writers have to write or the ideas build up in our heads and stink.
What is your work schedule like when you're writing a book?
Oh glory, it is all over the place. I have a family and train four to five times a week in jiu-jitsu, more if I'm competing. I get up early to write before getting the kids to school then write until it's time to train. I write when I get home from training until it's time to get the kids from school. I don't write well at night so I generally don't unless I'm editing. Somewhere in there I do housework and keep my husband fed.
What is the hardest part of being an author?
For me it's all the things I'm not doing when I'm writing. Laundry piles up, milk runs out and the fast food flows like wine! All that makes me very anxious and I get down on myself about it. If I were working a traditional job, I might not feel so bad which, actually, is another hard part of being an author. It's hard work that just doesn't look much like work to others. I'm also a thoughtful writer – which is the phrase I use for "slow writer with attention issues!" The process wears me out.
What's the best part of your author's life?
I get to create worlds for a living and put them in other people's hands for them to live in. I get to be people's escape, their happy place. And, with my non-fiction, a tow line when they are stuck in a scene. It means so much to me when an author turns to a scene in their book and tells me that my work helped them write it. I mean, are you kidding me? I get to help other people with their dream!!!
What's one thing your readers should know about you?
ONE thing? Wow. Well, I'm 47 and still compete in jiu-jitsu. Also, I was in the E.T. fan club. And, I'm a descendant of Shakespeare, plus, I was Sam's Employee of the month once. And, I got in trouble with the FBI when I was in 5th grade. And, I was a high school Spanish teacher.
How have you changed or grown as a writer?
Writing has a lot in common with fight training. When you first start out, you are pretty sure you know everything. The more you learn, the more you realize you have to learn. It's very humbling. I've gotten more methodical with my writing and am mindful of the craft. And, I edit, edit, and then edit ten more times.
What is your favorite pastime?
Reading, watching movies with my family and jiu-jitsu
Do you have other books? We'd love to know.
Many moons ago I self-published a book called Breaking Reed. If you buy it, just know it's the first thing I ever wrote. I'm also in several short story anthologies and am in an upcoming edition of Havok magazine.
What are you working on now?
I'm always posting to FightWrite.net, but, also, I'm jumping back into a little fiction writing. Just plotting things out and finding the voices of the characters at this point.
Website: FightWrite.net, FightWrite podcast (itunes, google play, spotify etc)
Link to book: https://www.amazon.com/Fight-Write-How-Believable-Scenes/dp/1440300720/ref=sr_1_1?keywords=fight+write&qid=1575411634&sr=8-1
Social media links: Twitter @CarlaHoch, IG @Carla.C.Hoch #fightwrite, #fightwritebook, #fightwritepodcast
Follow me on social media!