Meet the Author: Brandy Bruce
Welcome, Brandy!
Here's her bio:
Brandy Bruce is a wife, mother, author, freelance editor, and someone who really loves dessert. She makes her home in Colorado with her husband and three children. She's the author of Looks Like Love, the Romano Family Collection, and The Last Summer (releases June 2017).
Tell us about your newest book.
The Romano Family Collection consists of a trio of romances and I'm so excited about it! These three novels, Table for Two, Second Chance Café, and Recipe for Love, were originally published by Heartsong Presents/Love Inspired. I've repackaged them into a compilation book, along with a bonus short story and recipe! It's available on Kindle now, and should be available in print May 2017.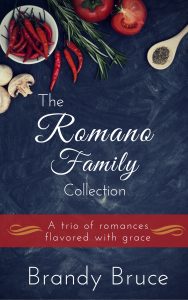 What genre do you focus on and why?
I write contemporary romance. For one thing, I love to read that genre myself, and for another, those are the stories that have come to me! But while I enjoy writing and reading romance, I like to really highlight family and friendship relationships in my stories, as well as self-discovery. Falling in love is a wonderful thing, but there's always more to the story.
Why do you write? What drives you?
I've been writing complete stories since I was twelve years old. (That's when I started writing series fiction!) I love characters and stories, it's just who I am.
Who is your main character, and how did you choose that name?
Since there are three novels, I've got three main characters! (Four including the short story.) We've got Mandy, Isabella, and Alison. The names are just ones that I've always liked, not named after any specific person.
What does a day in your writing world look like?
I write in the evenings. I have three small children and my days are busy! Sometimes I manage to write during naptimes as well. But usually once the kids go to bed, I try to write a little each day.
What is the hardest part of being an author?
I think promotion is hard and time-consuming. I love interacting with readers, but I'm not an expert at marketing. No one wants to be pushy when it comes to their products, but marketing and promotion are so important.
What's the best part of your author's life? Why?
Just the thrill of seeing your book in print is what I love! It's been a dream come true.
What is the craziest thing you've experienced as an author?
Hmm. Nothing too crazy. Maybe meeting some of my all-time favorite authors!
What are you most proud of?
I'm so proud of my children. Being a mom is my favorite.
What is your favorite pastime?
Spending time with family! (Then reading, then writing, then watching movies!)
Do you have other books? We'd love to know.
My first novel, Looks Like Love, is still very close to my heart. It was inspired by a trip I took to Europe and includes travel. I have a novel releasing with Bling! in June, called The Last Summer. That book has been almost twenty years in the making, so I'm thrilled to see it finally come out.
What are you working on now?
I'm working on a sequel to The Last Summer. Hopefully it won't take twenty years!
Website: http://brandybruce.blogspot.com
Link to book: https://www.amazon.com/Romano-Family-Collection-Romances-Flavored-ebook/dp/B06XK8M2N7/ref=sr_1_1?ie=UTF8&qid=1492618505&sr=8-1&keywords=the+romano+family+collection
Social media links: https://www.facebook.com/authorBrandyBruce
Follow me on social media!