Meet author Beth Vogt
Beth K. Vogt believes God's best often waits behind the doors marked "Never." Both a Christy Award and an ACFW Carol Award winner, Beth is the author of ten contemporary romance novels and novellas. Her first women's fiction novel, Things I Never Told You, releases May 8, 2018 from Tyndale House Publishers.
Tell us about your newest book.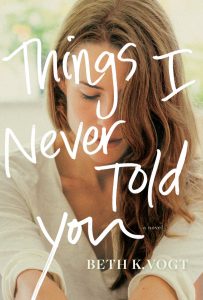 Things I Never Told You asks the question: Is family always worth fighting for? It's been ten years since Payton Thatcher's twin sister died in an accident, leaving the entire family to cope in whatever ways they could. No longer half of a pair, Payton reinvents herself as a partner in a successful party-planning business and is doing just fine – as long as she manages to hold her memories and her family at arm's length.
What genre do you focus on and why?
This is book one in the Thatcher Sisters Series and marks my debut in women's fiction. Before this, I wrote contemporary romance. Two years ago, as I was writing the final novel in my destination wedding series, I prayed about my direction as a novelist. I determined that I wanted to transition to women's fiction. I also switched publishers, and am now with Tyndale House Publishers.
Why do you write? What drives you?
One of the reasons I love writing women's fiction is because it delves into the relationships between women: sisters, mothers and daughters, best friends. I believe life is complicated – that relationships are complicated – and that God steps into our lives with the truth and says, "I have more for you than this."  Writing is also one of my opportunities to reflect God to the world.
Who is your main character, and how did you choose that name?
Payton Thatcher became a "twinless twin" when her identical twin sister, Pepper, died ten years ago. I named her after Peyton Manning, one of my favorite football players, but with an "a" instead of an "e".
What does a day in your writing world look like?
Interrupted. My writing day looks interrupted. Sometimes I get up early, say at 4 a.m., and I write for a couple of hours before my husband and youngest daughter get up. Sometimes I stay up late and write until midnight. And I write throughout the day – in between doing errands, or letting the dog out, or maybe catching lunch with a friend. Sometimes my grandgirls visit, and they do a "couch" picnic, where I give them snacks on a little tray, and they watch a movie and I write.
What is the hardest part of being an author? Why?
For me, the hardest part is balancing my real life and my writing life. Of course, I always want to be a good writer – a getting-better-at-my-craft writer. But, I'm a relationship-oriented person and I like to be available to my family and friends. I also work on deadline and I'm usually writing one book and getting ready to market another. So balancing all of those competing demands is challenging.
What's the best part of your author's life? Why?
I love connecting with other writers and encouraging or mentoring them, as well as celebrating their successes. I also love connecting with readers and talking story with them finding out what's going on in their lives.
What is the craziest thing you've experienced as an author?
Okay … the first thing that came to mind was when I was writing nonfiction. At the time, I was an editor and I was also writing magazine articles. I was attending a conference and someone asked me what I wrote. I told him and when he found out I didn't write books, he said, "Well, you're not a real author then."
STUNNED SILENCE.
It never, ever occurred to me that someone would think that.
What are you most proud of?
As an author? I used to think winning awards would be significant – and that has happened, and yes, it means a lot. But when I hear from a reader that one of my books has touched their heart or changed them in some way … it's not that I'm proud of that … but that's why I write … because I hope God can use my writing in a way the encourages or helps someone.
What is your favorite pastime?
I love grabbing two cameras – one for me, one for my husband – and going for a long walk or hike and taking photos. I also am the (un)official photographer for my daughter's high school and club volleyball teams. That's a lot of fun too.
Do you have other books? We'd love to know.
Things I Never Told Youis my 12th book, including novels and novellas, and one nonfiction book, and my first women's fiction. There will be two other books in this series.
What are you working on now?
I'm writing the second book in the Thatcher Sister Series. Each of the Thatcher Sisters – Johanna, Jillian, and Payton – is the main character of a book.
Website: http://bethvogt.com/
Link to book: http://bethvogt.com/beths-books/
Social media links:
https://www.facebook.com/AuthorBethKVogt/
https://www.pinterest.com/beth_vogt/
https://www.instagram.com/bethkvogt/
Follow me on social media!