Meet Andrea Kuhn Boeshaar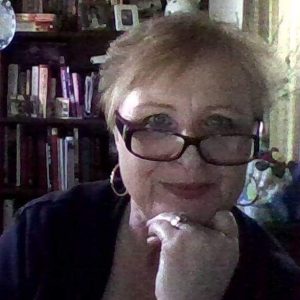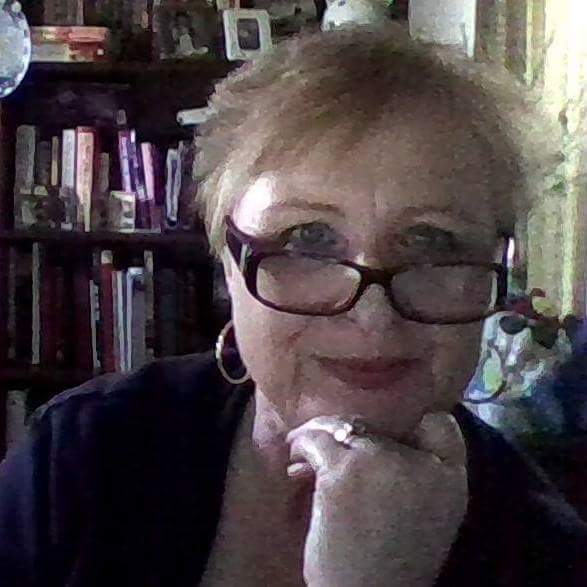 Andrea Kuhn Boeshaar is a Wisconsin author of over 40 books with ONE MILLION COPIES SOLD! The three components in all of her stories are faith, family, and forever relationships. In addition to novels, she blogs and writes devotionals and magazine articles with the hope of encouraging women wherever they are in their spiritual journeys.
Her latest historical series is the Shenandoah Valley Saga (Kregel Publications).  In September, her novel "My Heart Belongs in the Shenandoah Valley" (Barbour Publishing) is slated for release A Christmas novella is in the works and next year book 3 in her Shenandoah Valley Saga will be released.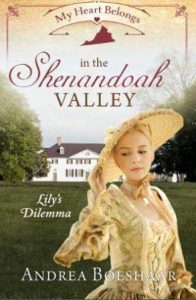 Tell us about your newest book.
It's one of Barbour Publishing's new line of books in the "My Heart Belongs" series. My novel is set in the picturesque Shenandoah Valley in 1816 when many Americans were struggling with the aftermath of the War of 1812.
Journey into Virginia's Shenandoah Valley of 1816 where a woman's dreams and future happiness are on the line. Captain McAlister "Mac" Albright has purchased land in the Shenandoah Valley. However, the land belongs to Lilyanna Laughlin—or so she erroneously thinks. Mac sets her straight and despite a poor start, the two become friends. . .if only he were financially stable to offer her more.
When Lily's life is threatened and his whole future goes up in flames, Mac truly becomes a man without means, and Lily is forced to make the impossible choice between a loveless marriage with a man twice her age or the man who has shown her what true love could be. How can she choose between love and economic security? Her family is depending on her.
What genre do you focus on and why?
I write Christian romance. Why? I find relationships fascinating. Life, itself, is about relationships. Even the essence of faith is about how God first loved us so we could love Him, and in the spiritual battle for our souls, Jesus Christ is the ultimately hero, drawing us to Himself, desiring a relationship with Him now and into eternity. A great love story doesn't get any better than that.
Why do you write? What drives you?
I think I have a romantic heart and always have. Now that I'm adult, my faith drives me because I try to make my novels a slice of faith in action. If a nonbeliever picked up one of my many books, he or she would begin to understand the meaning of being a Christian and that bad and good things happen to those who believe as well as those who don't.
Who is your main character, and how did you choose that name?
Mac Albright is my main character. I'm not sure how I arrived at the name. That's just who he was from the moment I began writing the synopsis to the end of the novel. There are times, however, when a character's name changes numerous times while I'm writing a story. But Mac was always Mac.
What does a day in your writing world look like?
I wake up daily at 4 AM. I either write or do homework for a couple of hours (I'm finishing my Bachelor's degree). Sometimes I do promotion during that time. Then I go to my "real job" where I work as a Customer Service Rep for a national hotel supplier. I'm done working at 5 and then I do things I need to get done that day—laundry, etc. I'm usually sleeping by 8PM. Exciting life, right?
What is the hardest part of being an author? Why?
Cultivating the time to be creative and write because of working a full-time job too.
What's the best part of your author's life? Why?
There's a true sense of accomplishment when I, at last, see one of my stories in print. And to think that God might use it in someone else's life leaves me awestricken. It's a humble but exciting feeling.
What are you most proud of?
I'm most of my books Broken Things and Hidden Things. So many people have written to me and said God used those books to change their hearts and minds. It's sometimes surreal to think of myself as a tool in the Master's hands, but it's an indescribable joy as well.
What is your favorite pastime?
Well, when I get free time I love to spend it with my grandchildren. In fact, as I finish this interview, my 7-year-old grandson is waiting for me to take him to McDonald's for lunch.
Do you have other books? We'd love to know.
I've written more than 30 books and they are all listed on my website. www.andreaboeshaar.com
What are you working on now?
I'm writing a Christmas novella that I plan to publish on my own. My husband and I are developing our own publishing company which we plan to call Steeple View Press. We live on Steeple View Road which is how we came by the name. I also run Steeple View Coaching for Writers, a service NOT affiliated with my new publishing company. Coaching isn't editing, so interested writers should peruse my web page called "Helps for Writers."
Website: www.andreaboeshaar.com
Link to book: https://www.amazon.com/My-Heart-Belongs-Shenandoah-Valley/dp/1683222229/ref=tmm_pap_swatch_0?_encoding=UTF8&qid=&sr=
Social media links: Facebook/Andrea.Boeshaar
Twitter: @AndreaBoeshaar
For more information, and to sign up for her quarterly newsletter, log onto her website: www.andreaboeshaar.com
SaveSave
SaveSave
SaveSave
Follow me on social media!