Make Your Days Count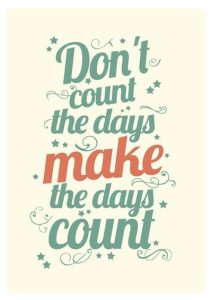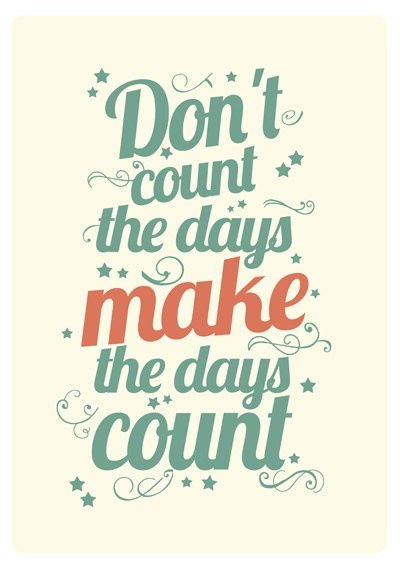 I've been visiting with my soon-to-be 94-year-old mother, and her years of wisdom and experience always seem to balance me and help me reorient myself in this busy world. When I mentioned how fast this year is flying by and how busy my schedule is, she just smiled, shared her wisdom, and aligned my thinking. I thought you might enjoy hearing that wisdom, so here are her secrets to making your days count.
Keep God First. Start every day with prayer and surrendering your day to His plans. Entrust that day into His hands for even when times are tough, He will guide you through every situation.
Stay healthy. Each of us knows what unhealthy habits we might have. Too little sleep? Too much junk food? Too little exercise? Take care of your body and your body will take care of you.
Know why you do what you do. Look at your schedule and assess why those items are on your calendar and/or if they need to be a part of your day. Whatever it is, it needs to be important to you, enough that you will be glad you did it when the day is done. Life is too short to waste time on non-profitable things.
Just say no. Learn to say no to things that are a waste of time and don't reasonably fit into your schedule. There are so many time wasters, including people who can waste your time. I must admit that too many lunch dates, social media, and searching for the best shopping deals can be a few of my time wasters.
Calendar corrections. When you turn the calendar to the next month (or even to the next week), take a little time to review the past week/month and make corrections to the upcoming week/month. Did you have too many lunch dates? Too little workout time? Watching too much TV or movies? Going to too many social events? Tweak your schedule to correct such slips.
Discourage distractions. What are your three worst time wasters? How can you shorten that wasted time or eliminate it altogether? Write them down and be careful not to get caught up in those distractions. I actually set an alarm when I get on my social media accounts so I don't get swept up in them.
Eliminate negativity. Most of us have that little voice nagging at us, telling us all the things we do wrong, all the ways we've failed at this or that, or all the weaknesses we have. Fix what you need to fix, but reject that critical voice inside you—or those critical voices from others who just can't keep from keeping their own negative opinion to themselves.
What can you add to Mom's 94 years of wisdom? I'd love to know!
Follow me on social media!