Happy Birthday to Devyn's Dilemma!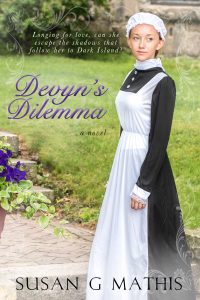 Happy Birthday, Devyn's Dilemma. My second book in the Thousand Islands Gilded Age series has finally released! Here's the storyline:
Longing for love, can she escape the shadows that follow her to Dark Island?
1910, Thousand Islands, New York. Others may consider The Towers castle on Dark Island an enchanting summer retreat, but to Devyn McKenna, it's a prison. Yet as she works as a maid for Frederick Bourne, former president of the Singer Sewing Machine Company, her life blossoms under the kindness of his family and fascinating entrepreneurs such as J.P. Morgan, Thomas Lipton, and Captain Vanderbilt. But more than anything, the growing friendship of Mr. Bourne's valet, Brice McBride, begins to pry away the painful layers that conceal Devyn's heart.
Brice is drawn to the mysterious Devyn even though he's certain she's hiding a secret, one far more dangerous than the clues they find in The Towers that hint of a treasure on the island. When Devyn is accused of stealing Bourne's investment in Vanderbilt's New York City subway expansion, he might not be able to protect her.
I love connecting with my readers and getting the word out about my newest releases, but no matter how you cut it, it's a lot of work to let others know about any book baby you birth.
The reality is, there are so many books out there that it's easy for Devyn's Dilemma, Sara's Surprise, Katelyn's Choice, Christmas Charity, or The Fabric of Hope to get lost in the crowd. Would you be willing to help me in getting the word out?
Would you help me promote my book? It's the best gift you can give an author. Here's some ideas:
Post an Amazon review. Your review doesn't need to be fancy. Just a sentence or two would be great. Here's the link:https://www.amazon.com/Devyns-Dilemma-Thousand-Islands-Gilded/dp/1645262731
Post on Social Media. Share posts about Devyn's Dilemma (or anything else you like) as well as post comments! You can post your review on your social media pages, and I can also email you other helpful stuff (Facebook posts, Tweets, etc.) that you can copy and use at your leisure.
Take pictures. Post photos of you with the book (even holding it in your hands or on your lap), on a library or store shelf, at a book club, with your dog, etc., and be sure to tag me.
Pass the word. Tell your friends, family, local library, etc.
If you have a blog and would like me to be a guest blogger, I'd love to do that. Or if you know of someone who has a blog who might be interested in interviewing me, a personal introduction would be greatly appreciated.
If you have a book club, I'd love to be a guest author for it in person or through Skype, Google Hangout, etc.
The truth is, word-of-mouth is the most powerful way to make a book successful. Thanks, for joining me on the journey. You are a blessing!
Follow me on social media!