Casa Blanca, New York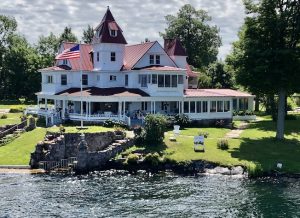 The wonderful white summer home, Casa Blanca, is one of the most well-preserved Gilded Age cottages along "Millionaire's Row" in the Thousand Islands and the setting for my latest novella, Reagan's Reward. Set on the downriver tip of Cherry Island, just off the mainland shore near Alexandria Bay, NY, this white house is one of the most photographed and touted mansions on the river.
In 1880, Emily and Albert Pullman built the original Melrose Lodge. Then in 1897, Luis Marx bought it for $3,500. This American businessman owned tobacco and sugar plantations in Cuba. He and his wife, Eugenia, renovated and enlarged the small lodge into a three-story, twenty-five-room palatial mansion. The wrap-around veranda captures the main channel sights of passing ships and boats, spectacular sunsets, and views of other islands. Marx even installed a grand electric fountain on the front lawn that had been featured in the Chicago World's Fair, and many enjoyed passing by the island to see it.
Work on the mansion was finished just in time for their daughter's wedding. On June 30, 1899, Mary and Henry Bernheim were married on the island. Unfortunately, after only five years, Eugenia died at Casa Blanca in 1902. The Bernheims continued to summer on the island, with frequent visits from Luis Marx, until it was sold in 1926.
The current owners saved the deteriorating Casa Blanca from destruction in 1962. They restored and renovated the mansion to its original grandeur, right down to the teaspoons and stained-glass transoms.
The house is a Gilded Age living museum with everything like it was nearly one hundred years ago. The reception hall/living room has pressed tin ceilings and side walls. Two player pianos and a pump organ, bentwood Thonet furniture from Vienna and Fostoria glass, a collection of blue and white Meissen china and the butler's pull station, take visitors back to the early 1900s. The paneled staircase has a stained-glass window at the landing, with a scene depicting pheasants on the river in the morning light. On the second floor are four master suites with a total of thirteen bedrooms and screened sleeping porch. The third floor, originally the servants' quarters, hosts several bedrooms, a bath, and a plethora of antique toys, quilts, and more. The home can sleep twenty-eight. Moreover, there are several outbuildings, including a Laundry House, Ice House, and the Boat House that has an entire apartment on the second floor and houses a fleet of boats.
The family enjoys summering here and welcomes frequent guest, including me. It's been opened to the public for fund-raising tours, teas, and weddings to benefit the Thousand Islands community. The mansion was even featured on Sweet Retreats. https://www.youtube.com/watch?v=Bpl76DswmRM&t=60s
Follow me on social media!