Carol Ashby on Roman-era historical fiction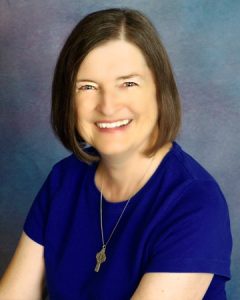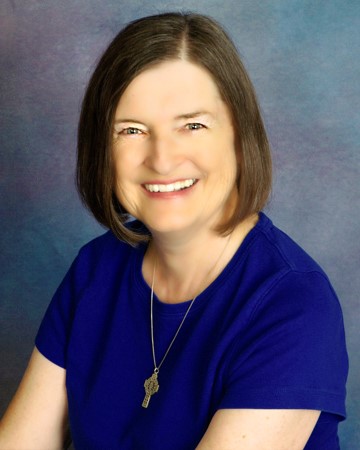 Carol Ashby grew up mostly in Idaho, but she's worked and raised her family in New Mexico. After a career in research, she now works full time writing stories about difficult friendships and life-changing decisions in dangerous times, where forgiveness and love open hearts to discover their own faith in Christ. When she isn't writing, she enjoys watching birds and other wildlife, playing piano, sewing, and traveling with her husband Jim.
Tell us about your newest book.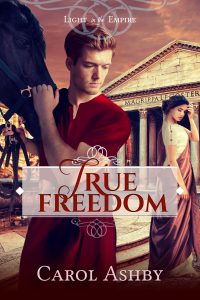 True Freedom is the next in the Light in the Empire series of stand-alone novels set in the Roman empire between AD 114 and 122. Enslaved as a youth when the Romans conquered his homeland, Dacius has grown to manhood as a Christian slave, trying to serve his masters as he would serve his Lord. When he overhears his owner's son planning to kidnap the owner's daughter Julia to get the ransom money to pay a gambling debt without his father knowing, Dacius risks his life to save her. Can his sacrificial service earn the freedom and love he never dreamed possible, or will it only end in his death?
What inspired you to write True Freedom?
Carol loves thinking about how living faithful to God can impact the people around us. Some people get to do big things to help others, but more often it's the little things in the way we live our daily lives that draw people toward our Lord. While writing The Legacy and Faithful, two earlier novels in the series, she learned a lot about the social dynamics of the Roman world, split between free people and their slaves, who were legally "living things" and considered as disposable as a piece of furniture or some livestock. That raised the question of how people with no power over their own fate could live a life faithful to God and how that faithfulness could change the ones with power over them.
How would you describe this book to someone in a 30-second blurb?
It's a story about a man staying true to his faith in Jesus even after being made a slave and losing everything and how his faithfulness opens an unexpected future for both him and the woman he was bought to serve.
What genre do you focus on and why?
Carol writes historical romance: adventures with a challenging romance threading through the plot. Her stories are tales of dangerous times, difficult friendships, and the power of forgiveness and love to transform lives. The early Roman empire is the perfect backdrop for being a Christian when it might get you killed and for nonbelievers who get to know a believer well to wrestle with whether following Jesus is worth the risk. It's the forgiveness and friendships, romantic and otherwise, between characters of different faiths that open hearts toward God.
Who is your main character, and how did you choose that name?
Carol is obsessive about getting the history right in her novels, and that limits the names that can be used. There were only twelve first names for citizen men in common use, and four of those made up sixty percent of the names. Names in Roman society followed very strict conventions if you were a Roman citizen. The lead female character is the daughter of an ex-consul of Rome and governor of Sicily, so she used the feminine version (Julia Secunda). The hero (Dacius/Leander) is a slave who'd had his name changed each time he was sold, which was common practice in those days.
What is your work schedule like when you're writing a book?
Carol writes full-time, and spends eight to ten hours every day writing her novels, working on her websites (she's her own webmaster), interacting on social media, and working on marketing activities. She's an energizer bunny who naturally runs on six to seven hours of sleep, so writing at one or two in the morning isn't uncommon when she's in the flow of a scene.
What is the hardest part of being an author? Why?
The hardest part of being an author is marketing. Even the biggest traditional publishers today expect their authors to do most of the marketing of their work. The stories come and are a joy to write, but figuring out the business aspects of being an author and spending the necessary time are not sources of joy.
What's the best part of your author's life? Why?
The best part of the author's life is hearing from a reader that they found their own faith encouraged by the faith of the characters in one of Carol's stories.
What's one unusual fact about you?
Carol worked in semiconductor research for many years, and that meant a lot of writing using a formal English style. It took her months of writing fiction before she would write "But" at the beginning of a sentence instead of "However," without cringing.
How have you changed or grown as a writer?
After so much study of the advice of experts on how to craft tightly plotted stories that set a hook and won't let a reader go, it's become much easier to capture the emotion and action in the first draft. She rereads finished scenes and edits as she writes, so there isn't as much to change when the first draft of a manuscript is finished. That makes the total time to write a 100K-word manuscript much shorter than when she started writing fiction.
What is your favorite pastime?
Carol's favorite ways to spend her time when not writing include watching birds and other wildlife and playing the piano.
Do you have other books? We'd love to know.
True Freedom is the sixth in the stand-alone Light in the Empire series, all set in the Roman Empire between AD 114 and 122. The stories range across the Empire from Roman Germany to Judea and present-day Turkey. Each can be read independently so a reader can enter the series with any of the stories, but they share some characters. She tries for an exciting read with an "aaah" or two at the end. Sometimes that "aaah" is for a character the reader met in a different book but really got to know in the current one. The next book, Honor Bound, is going to be like that.
What are you working on now?
Carol is working on Honor Bound,which picks up a secondary character in True Freedom and makes him the male lead four years in the future. She's also writing a novella focused on the sister who was separated from the hero of True Freedom twelve years earlier when they were both made slaves by the Roman army. Plus, she's writing more articles for her Roman history website at carolashby.com
Website: https://carol-ashby.comis my author site.
https://carolashby.comis my Roman history site.
Link to book: https://amazon.com/dp/B07RWL15G1/
Social media links: https://www.facebook.com/carol.ashby.50
Follow me on social media!