Author Susan Meissner on WWII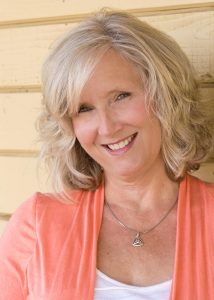 Susan Meissner is a USA Today bestselling novelist with more than half a million books in print in fifteen languages. Her novels include The Last Year of the War, a Library Reads and Real Simple top pick, and As Bright as Heaven, starred review from Library Journal. She attended Point Loma Nazarene University and volunteers for Words Alive, a San Diego non-profit dedicated to helping at-risk youth foster a love for reading and writing.
Tell us about your newest book.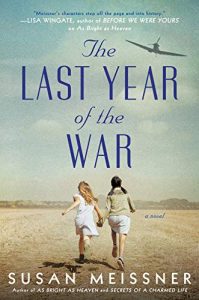 The Last Year of the War is a WW2 tale about an ordinary American teenager named Elise Sontag whose German immigrant parents have lived in Davenport, Iowa, for years. The Sontags' world is turned upside down in 1943 when Elise's father is arrested for being a suspected Nazi sympathizer. Unable to convince anyone of his loyalty to the US, the family is sent to an internment camp in Texas. While struggling to hold onto the threads of her identity, Elise meets a Japanese girl from Los Angeles who, like her, was born in America to immigrant parents. They form a bond of friendship Elise will cling to, even when she and her family are repatriated to war-torn Germany the last year of the war. In the hell of warfare and its aftermath, where all Elise believes herself to be is called into question, the echoes of that  friendship will help her decide who has the right to declare to her who she is.
What inspired you to write The Last Year of the War?
I was on Ellis Island a few years ago for a book event related to A Fall of Marigolds, which takes place partly on the grounds of the Ellis Island Hospital. The guide who was going to be taking us on the hard hat tour of the hospital buildings asked me if I knew that Ellis Island had been used as a detention facility for German and Japanese-Americans during WW2.  That was the first time I heard of German-Americans being detained in the States at all during the war. He then told me that it wasn't just Ellis Island; there was internment camp south of San Antonio, Texas, where hundreds upon hundreds of German-Americans – and their American-born children- had been sent, and that some of these people were actually repatriated to Germany in prisoner exchanges. As a writer always on the lookout for a historical event about humanity, I knew there was a story waiting for me here, and waiting for you, because it was largely an untold story.
How would you describe this book to someone in a 30-second blurb?
At its core, this is a story about the quest for identity. Do I decide who I am or is my identity imposed upon me by others? Who decides who I am? The Last Year of the War deals with this question but also friendship and family bonds, fear and prejudice, love and acceptance.
What genre do you focus on and why?
I've written in other genres but I've stayed in the historical fiction lane for the last eleven years because I love how this genre allows us to learn history by experiencing it through the pages of story. It's like being able to time travel without leaving your chair.
Why do you write? What drives you?
Like many writers, I understand life by writing about it. Writing is gift, I think. God gifts some people with the ability to paint; it's in their DNA. I think writing is in mine.  I am motivated by hearing the real life stories of ordinary people like you and me thrust into extraordinary circumstances that force them to find strengths they didn't know they had.
Who is your main character, and how did you choose that name?
Elise is the main character and I chose this name first because I love the way it sounds coming off the tongue. Secondly, it's derivative of the German name Elsa, which is a Sontag family name.
What is your work schedule like when you're writing a book?
On writing days, I try to wrangle 1500 good words onto the page. Sometimes (on a really good day), I am done by noon. Other days, I am still at it at dinner time. Non-writing days are usually used for research or social media requests or handling the day to day business life of a freelance writer.
What is the hardest part of being an author? Why?
For me the hardest aspect to deal with — and maybe this is true for many other creatives who produce a product for the masses — is managing expectations and disappointment. It can be a challenge to refuse to compare myself and my books and their standing in the marketplace with other writers and their books. I try to begin each day with an attitude of gratitude. That seems to ward off envy and discontentment and anxiety.
What's the best part of your author's life? Why?
Meeting people, making new friends, finding new kindred spirits. The reason it's the best part is because people are the best part of any kind of existence. In the end, it's the people in our lives that make life wonderful and purposeful.
What's one unusual fact about you?
I don't like escalators. I will ride them but I don't like them. If we are walking together and approach an escalator, you have to go first. I am going to need a second or to count off a couple steps before I step out and commit.
How have you changed or grown as a writer?
I've learned so many things on this career path. I've become a better writer (I hope) with better insights on how we think and why we humans love what we love and fear what we fear and do what we do in response to these two universal motivators. I've learned writing doesn't get easier, and that that's okay. Feeling the challenge is part of the process of crafting a great book, in my opinion.
What is your favorite pastime?
Traveling to faraway places is always a treat. But as for everyday pastimes, I love to read what I want to read (not for work) in a comfy spot with a cuppa and with my dog curled up at my feet.
Do you have other books? We'd love to know.
I have about 20 other titles; the most recent are AS BRIGHT AS HEAVEN, A BRIDGE ACROSS THE OCEAN, STARS OVER SUNSET BOULEVARD, SECRETS OF A CHARMED LIFE, and A FALL OF MARIGOLDS.
What are you working on now?
The book I am only a few chapters into doesn't have a title yet but it's set in San Francisco in the early twentieth century. The lives of three women are going to converge because of the machinations of one man. Here's my working premise: When the lives of three women collide in the 1906 San Francisco earthquake, a shared secret buried in the resulting dust and ash will bind them forever afterward.
Website: susanmeissner.com
Link to book: IndieBound
Social media links:
www.facebook.com/susan.meissner
https://twitter.com/SusanMeissner
On Instagram as @soozmeissner
Follow me on social media!