Meet YA author Janet E. Fichter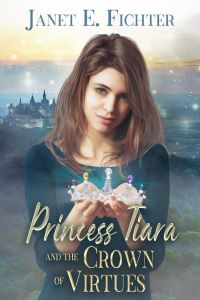 Janet writes to inspire readers to gain a broader, more spiritual perspective of life's events. Her narratives and thought-provoking essays help kindle a passion for serving Christ. Janet is author of The Ministry of the Unveiled Face (non-fiction study) and Princess Tiara and the Crown of Virtues (young adult fantasy). Her third book, Princess Tiara and the Battle for Fruitful, releases this fall. Janet also maintains an active blog (www.atjesusfeet.com) of non-fiction and poetry.
What inspired you to write Princess Tiara and the Crown of Virtues?
This story celebrates my nieces and nephews. The original version was written when Tiara, the main character and my youngest niece, was only ten. Her siblings in the story are also my nieces and nephews. I have highlighted one of their strengths of character as well as their personalities because each one demonstrates virtue in real life and I adore them all. It was delightful crafting a story that honored them.
On a different note, I also wrote this story to support teachers. The book is designed to support instruction in literacy, and there are supplemental materials available for teachers on my website.  As a retired public-school teacher and instructional coach, I loved creating these instructional guides, and I know classroom teachers are always looking for quality stories to use in instruction. Unlike the plethora of darker tales that flood the market for middle grade and teen readers, this story focuses on celebrating the call to live virtuously. There are spiritual undertones interspersed throughout the tale, including the very special character Princess Tiara meets at her crowning.
How would you describe this book to someone in a 30-second blurb?
How does a young princess prove herself worthy to wear a royal crown when she's more passionate about exploring nature?
Tiara, the youngest princess in the royal family of the Kingdom of Fruitful, is the only child yet to wear a crown. The crowns of her six older siblings sparkle with a special gem they earned by a test of character. Now, as the last royal heir, Tiara must demonstrate a virtue she'd rather not even think about.
Can Tiara become a princess with purpose? What will her virtue be and what jewel will she earn for her crown? Perhaps a mysterious, old woman wearing a cloak that often glows can guide her quest? But will she pay attention to these encounters?
Princess Tiara and the Crown of Virtues is a must read for middle grade students, teachers, and parents. It will stimulate thought and discussion about what it means to be virtuous.
What's the best part of your author's life?
My writing is always a time of fellowship with Jesus. I'm an uber morning person, so I rise at dawn to have a quiet time of prayer, worship and Bible study. Often these quiet times will inspire a piece of writing, whether that be a poem, a song, or an idea for an essay.  Since my current focus is on fiction / fantasy, my quiet times now inform the spiritual analogies I bring in to the fantasy story.
Do you have other books? We'd love to know.
My first book, The Ministry of the Unveiled Face, is a nonfiction study for personal reflection or small group discussion. Like the unveiling of a beautiful bride at her wedding, the spiritual veil is removed, and Christ's truth and goodness are revealed.
What are you working on now?
I am in the final stages of a sequel to Princess Tiara and the Crown of Virtues.  The sequel is entitled, Princess Tiara and the Battle for Fruitful.  Here's a quick synopsis:  When an unexpected enemy force arrives in the Kingdom of Fruitful, Princess Tiara and her siblings must draw upon their virtues to confront the threat. Princess Tiara follows Head Servant Joseph up the arduous trail to the Kingdom of Mysterious Peaks. Though Tiara believes she is there to assist Joseph, instead she encounters an amazing world of mystical creatures with spiritual powers. Eventually, the young princess realizes the ethereal beings from the Mysterious Peaks will be the salvation for her family's kingdom in the valley below.
Meanwhile, her siblings ride frantically through the kingdom to warn some and confront others. Their virtues propel them as the lure of riches leads the enemy force to desecrate sacred and cherished sites in Fruitful. The conflict climaxes at the mysterious Cave of Stones. What is hidden deep inside the cave? Will supernatural assistance from The Kingdom of Mysterious Peaks conquer the enemy that threatens the peaceful Kingdom of Fruitful? Will the virtues represented by the jewels in Princess Tiara's crown help the royal family rise above the sinister forces of desecration and destruction?
Website:  https://atjesusfeet.com
Link to book:  https://www.amazon.com/Princess-Tiara-Crown-Virtues-Adventure-ebook/dp/B0BLHQ11QS
Social media links:  https://www.facebook.com/JanetFichterAuthor
Follow me on social media!