Meet Megan Alexander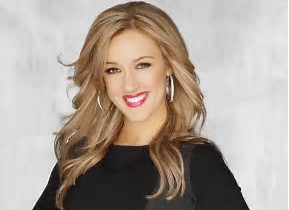 Megan is a correspondent for "Inside Edition", the longest-running tv newsmagazine. She covered Thursday Night Football for CBS for two years. She is an author, speaker, producer, actress, and married mother of two.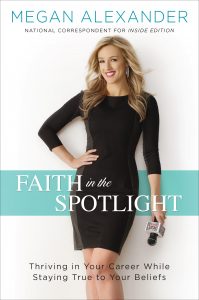 Tell us about your newest book.
"Faith in the Spotlight – thriving in your career while staying true to your beliefs". This is my motivational guide to this next generation of ambitious women. Its very practical and talks about things like negotiating a contract, climbing the ladder, body image, marriage, mentors, and more.
What genre do you focus on and why?
There are very few books for the young business woman of faith. Go to any bookstore and you will see plenty for MEN- but virtually none for women. Instead, women are given books by Bible study teachers or on being a wife and mother. I was starved for this kind of book and I think others are, too. The church has not done the best job supporting Christian businesswomen.
Why do you write? What drives you?
The need for this book. Every day I work in a busy newsroom in New York City. The secular work is FULL of opportunities for ambitous women, but not the church. I finally stopped looking for answers and decided to write about the solution, myself. I also collected insight from major influencers in culture – people like Roma Downey, Kirk Cousins, Gabby Douglas, and more.
Who is your main character, and how did you choose that name?
The main character is me. I received an email from a church in Seattle. The pastor wrote to me and said he has a church full of young, ambitious women of faith. They have big career goals and dreams, but they are worried they will need to compromise their values to get ahead. He said " I have few role models to point them toward, but I know of you. Will you come speak to us?" I knew I needed to do more. This book is my story, but it is also motivation for every young women.
What does a day in your writing world look like?
I commute every week from Nashville to New York, so I wrote this book on my lap top, on the plane. It took about two years.
What is the hardest part of being an author? Why?
There is not enough room to always share everything you want to.
What's the best part of your author's life? Why?
Learning that your book has inspired another person – that is the greatest gift!
What is the craziest thing you've experienced as an author?
It's not crazy, but men tell me they are inspired by my book. As a mother of two young boys, I love that!
What are you most proud of?
I wrote this book myself. A lot of people have co-writers or ghost writers. I did not.
What is your favorite pastime?
Working out, eating and traveling with loved ones.
Do you have other books? We'd love to know.
I am working on a children's book!
Website:www.MeganAlexander.com
Link to book:www.FaithInTheSpotlight.com
https://www.amazon.com/Faith-Spotlight-Thriving-Staying-Beliefs/dp/1501143050
Social media links:
Twitter: MeganAlexander
Facebook: Megan Alexander
Instagram: @MeganJAlexander1
SaveSave
SaveSave
Follow me on social media!