Meet Cynthia L Simmons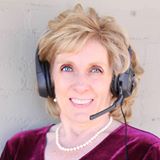 Cynthia L Simmons reaches out to women to deepen and encourage them in their faith. She'll tackle any challenge, including new technology to bless others with the sweetness of God's grace. Her writing and webinars combine history with clear presentation of Scripture. She also hosts Heart of the Matter Radio and does a video called Cynthia Chat on Chispa magazine.
Tell us about your newest book: Pursuing Gold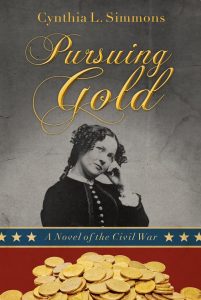 Peter and Mary Beth depend on their Confederate bank for their livelihood, and they care about providing for their employees. Banking during the war proves tough, but their lives become more complicated when someone counterfeits money with forged signatures. They must find the counterfeiter before there's a run on the bank, forcing it to close. Peter pursues investments that pay in gold and both of them learn the importance of pursuing God.
What genre do you focus on and why?
I've always loved mysteries, so when I start writing my mind contrives puzzles to solve.
Why do you write? What drives you?
I have a disabled child that I homeschooled. He was tough to teach, and at times I got discouraged. Things people wrote from the past kept me going, yet they had no idea anyone would be reading what they put on paper hundreds of years later. That told me how powerful words can be, and I started to write to share that encouragement.
Who is your main character, and how did you choose that name?
Mary Beth is the female main character. The double name is very common in the South, and many people named their girls Mary.
Peter is my male main character, and he's modeled after my oldest son who is very gracious and methodical. I always loved the name Peter, but we chose not to name our second son Peter since Peter and Paul had a disagreement in the Bible.
What does a day in your writing world look like?
Writing is a full-time job for me because I combine my writing with a radio program. I'm always reading and preparing for an interview while juggling my projects. When working on a novel, I write until my brain goes blank in the early hours of the morning. Short pieces like devotionals take less time and don't keep me up.
What is the hardest part of being an author? Why?
I'd rather someone else sell my work because I hate to brag on what I've done. Yet when I finish a long work, I have poured my soul into it.
What's the best part of your author's life? Why?
I love getting to know people, especially interviewing. I've made friends all over the country, and that's so fun. When I homeschooled, I felt isolated, but now I feel more connected to friends.
What is the craziest thing you've experienced as an author?
I've had to learn how to handle myself on TV as well as radio. Even though I am nervous people tell me I look so calm.
What are you most proud of?
I'm proud of Pursuing Gold since a full-length novel was so challenging.
What is your favorite pastime?
I grow orchids and arrange flowers. My husband and I love ballroom dancing.
Do you have other books? We'd love to know.
Women Who Overcame is a series of historical fiction stories about women and the hardships they faced.
Solving the Dilemma of Heartache – a short Bible study on suffering
What are you working on now? The story of C.H. Spurgeon's wife
Website: www.clsimmons.com
Link to book: https://www.amazon.com/Pursuing-Gold-Novel-Civil-War-ebook/dp/B01M9HI3PH/ref=sr_1_1?ie=UTF8&qid=1511219950&sr=8-1&keywords=Pursuing+gold
Social media links:
instagram.com/Cynthialsimmons
plus.google.com/+CynthiaLSimmons
twitter.com/CynthiaLSimmons
facebook.com/HrtMtr
Follow me on social media!