Meet author Janet Perez Eckles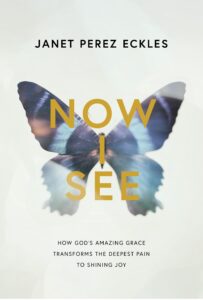 International speaker and award-winning author, Janet Perez Eckles, has been called the excuse eraser. She overcame her complete blindness, the murder of her son, the acquittal of the man responsible, and the death of her 42-year marriage. Although her life saw tragedy, her story shines with joy within beautiful victories. She authored five books, including the Golden Scroll Award winner, Now I See. She travels across the globe inspiring others to live triumphantly.
Tell us about your newest book.
Now I See: How God's Amazing Grace Transforms the Deepest Pain to Shining Joy. It's my story that highlights God's faithfulness at work. With intimate details, I illustrate episodes of heartache, tragedy and loss that were covered by God's grace. The journey shines with pain turned to peace, heartache to healing and blindness to a view of God's beautiful unending love.
What inspired you to write Now I See?
A desire to showcase God's restoring power that's vibrantly alive today.
How would you describe this book to someone in a 30-second blurb?
God's Word shines with hope through Janet's story. Blind at 30, the murder of her child, her husband's abandonment –were no match for God's restoring power that ushered joy inside beautiful victories.
What genre do you focus on?
Nonfiction, inspirational. The world is in chaos. A real-life illustration of God's redemptive love speaks to the fear and anxiety that plague millions today.
Why do you write?
That woman or man who sinks in despair, feeling trapped, overwhelmed by life and hungry for hope. They become my motivation to pen a message of freedom.
What is your work schedule like when you're writing a book?
After my work as a Spanish interpreter, I sit at the computer for my first draft. As I wake up in the mornings, God places more words, insights and messages to include in my writing.
What is the hardest part of being an author?
Having enough time to write all that rumbles in my head.
What's the best part of your author's life?
A letter from one of my readers relating how my book changed them.
What's one thing your readers should know about you?
In my college years, I did everything I could to avoid writing term papers. I detested the idea of writing more than a page. God has a sense of humor.
What's one unusual fact about you?
When I arrived in the U.S. I didn't speak a word of English, and here I am—writing books in English! I lost my eyesight at 30, and here I am writing books.
How have you changed or grown as a writer?
I learned the craft of writing, the art of overcoming rejections, the arduous work needed to achieve compelling writing that touches my readers' hearts.
What is your favorite pastime?
Dancing.
Do you have other books? We'd love to know.
Yes, four previous books that also inspire on different levels.
What are you working on now?
The outline of a Bible study to accompany my latest release, Now I See.
Website: www.janetperezeckles.com
Link to book:  www.janetperezeckles.com
Social media links:
Facebook (personal): Janet Perez Eckles-Settles
https://www.facebook.com/janetperezecklessettles
Facebook (professional): Janet Perez Eckles – Author & Speaker
https://www.facebook.com/JanetEckles/
Twitter: Janet Eckles (@janeteckles)
Instagram: Janet Perez Eckles-Settles (@janetperezeckles)
https://www.instagram.com/janetperezeckles/
Pinterest: Janet Perez Eckles (@janetperezeckles)
LinkedIn: Janet (Motivational Speaker, Best-selling Author) Perez Eckles
https://www.linkedin.com/in/janet-motivational-speaker-best-selling-author-perez-eckles-4654772
YouTube: Janet Perez Eckles (@JanetPerezEckles)
https://www.youtube.com/janetperezeckles
Follow me on social media!