Meet author Denise Weimer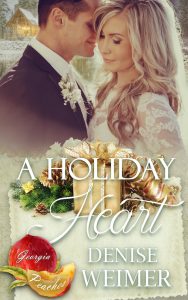 Denise Weimer writes historical and contemporary romance and romantic suspense, mostly set in her home state of Georgia. She's authored almost a dozen traditionally published novels and a number of novellas. As a managing editor for Lighthouse Publishing of the Carolinas, she also helps others reach their publishing dreams. A wife and mother of two daughters, Denise always pauses for coffee, chocolate, and old houses.
Tell us about your newest book.
On the verge of starting her own company—and a fling with the hot star of a TV saga—Atlanta film makeup artist Ashlyn Jennings is willed a mysterious box containing a key from her grandmother's estate. Mamie Lou, the former Hollywood B-lister who inspired Ashlyn's path in life, always demonstrated a flair for the dramatic. But did Mamie Lou really expect her to put everything on hold to clean out a mountain cabin no one even knew about? And right at Christmas?
When Ashlyn arrives at White Falls Lodge armed with cosmetic bags and designer shoes, little is she prepared to be stranded by a snow storm, irritated by the handsome resort owner who seems determined to peel away her facade, and redirected by a God Ashlyn wants to forget, through Mamie Lou's real gift … the secret story of her grandmother's past.
What inspired you to write A Holiday Heart?
The story was originally to be part of a single-volume collection about granddaughters who inherited special heirlooms from their grandmother. The collection was never picked up by a publisher, so when I was invited to join the Georgia Peaches Series, I had an aha moment. A fun, heart-warming contemporary romance set in Georgia with deeper faith themes, A Holiday Heart was a perfect fit. And seeing as how I'm a Georgia Peach myself … all I had to do was add a mention of peaches to the story. Oh, and expand it by ten thousand words. But what's that?
I'm grateful that God never wastes anything. A manuscript may sit for years, but then, suddenly, He nudges you toward the perfect situation. Even if a story is never published, it's served as a learning tool.
How would you describe this book to someone in a 30-second blurb?
An Atlanta makeup artist inherits a key to her grandmother's mysterious mountain cabin … only to have her life rerouted by the handsome lodge owner and the secrets of her grandmother's past.
What genre do you focus on?
I'm a genre-hopper—historical and contemporary romance and romantic suspense. And time slip, naturally. However, most of my contemporary novels are seasoned with a bit history. I love to write stories where modern characters learn life lessons from the past.
Who is your main character, and how did you choose that name?
Ashlyn Jennings. She's a bit city-girl prissy at first, so I needed a modern name that might reflect that. (Sorry, Ashlyns out there!)
How have you changed or grown as a writer?
From my early days when I mistakenly thought writing to be a solo endeavor, I've realized my most prized assets are other authors. We help and support each other every day! It's a huge blessing to have a network of friends with the same interests all over the country.
The editing training I've received in the years that followed my journalism degree has also greatly shaped my writing, teaching me how to write in deep point of view, by showing rather than telling, and without info dumps. I can write more tightly and efficiently as a result.
What is your favorite pastime?
Strolling through cute towns with antique malls, boutiques, and coffee shops with my mother or college-age daughters; touring historic sites; and taking long walks with my hubby and dog.
Do you have other books? We'd love to know.
Redeeming Grace (late-1800s sweet romance, short novel); The Georgia Gold Series (four books, mid-1800s, literary fiction-style set in Clarkesville and Savannah); The Restoration Trilogy (time slip romantic suspense with back stories from three different centuries); Backcountry Brides (1700s novella collection); Holly, Ivy & Intrigue (contemporary holiday suspense collection); Fall Flip (award-nominated contemporary romance with Hallmark/HGTV feel); The Witness Tree (Federal-era marriage of convenience romance set in Cherokee Territory); Spring Splash (contemporary romance/sports fiction); Traces(contemporary romantic suspense); A Holiday Heart (today's feature); and coming in April 2020, Bent Tree Bride (Frontier War of 1812 romance).
What are you working on now?
I'm getting ready for the release of my next full-length novel. So excited about it, as I feel it truly reflects my growth as an author.
Susanna Moore can't get him out of her mind—the learned lieutenant who delivered the commission from Andrew Jackson making her father colonel of the Cherokee Regiment. But the next time she sees Lieutenant Sam Hicks, he's leading a string of prisoners into a frontier fort, and he's wearing the garb of a Cherokee scout rather than the suit of a white gentleman.
As both Susanna's father and Sam's commanding officer, Colonel Moore couldn't have made his directive to stay away from his daughter clearer to Sam. He wants a better match for Susanna—like the stuffy doctor who escorted her to Creek Territory. Then a suspected spy forces Moore to rely on Sam for military intelligence and Susanna's protection, making it impossible for either to guard their heart.
Social media links:
Follow me on social media!