Meet author Anne Greene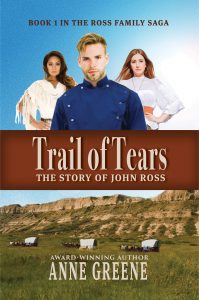 Anne Greene loves writing about alpha heroes who aren't afraid to fall on their knees in prayer and about gutsy heroines. Her first book in her CIA Operatives series opens with Shadow of the Dagger. Her Women of Courage series spotlights heroic women of World War II. Blast off with Angel With Steel Wings. Her Holly Garden, Private Investigator series opens with Red Is For Rookie. Enjoy her award winning Scottish historical romances. Anne hopes her stories transport you to awesome new worlds and touch your heart. Discover more about Anne at: https://www.AnneGreeneAuthor.com
Tell us about your newest book. Trail of Tears, The Story of John Ross                               
What if you are a twenty-year-old, about to attend college, and your whole world collapses? Your mother and sister are missing, and soldiers murder your father, burn your mansion, and take you prisoner.
Trail of Tears relives one of the most heartrending chapters in American history as the US Government transports the self-governing, wealthy Cherokee nation from their ancestral homeland to relocate in hostile Indian Territory. The Georgia militia force John Ross, with only a trickle of Indian blood flowing in his veins, to walk the thousand-mile Trail of Tears.
After John protects a full-blood Indian girl from the lustful wagon master, the cruel soldier targets John for retribution—until John's shoved too far. Bitter animosity explodes from a jealous Army Captain as John pushes and pulls his Conestoga wagon over mountain roads made muddy by rain and slippery by snow. Yet the persuasive voices of the preacher and his daughter have an impact. A new destiny awaits John at the end of the trail—if he survives. Four thousand Cherokee do not.
What genre do you focus on?
I love writing historical romance with a large dose of suspense stirred in. Today's young people are unaware of the rich history of their country. History has turned from a boring subject in school to non-existent. Fiction gives people, young and old, a healthy awareness of the past, how America was built, and how we became the people we are.  I write historical romance to help them understand.
Who is your main character?
John Ross is the fictional nephew of the real John Ross who was President of the Cherokee Nation during the terrible ordeal they endured. My fictional John was less than one-eight Cherokee, but because of the plantation he owned, the State of Georgia wanted his land. So, he was forcibly evicted and under military guard was removed from his ancestral land to a land already occupied by far more primitive and often hostile Indians. John symbolizes the many mixed blood people evicted from their lands.
What is your work schedule like when you're writing a book?
My work schedule has changed over the years. In the beginning, I spent seven to eight hours a day writing. These days I write from one in the afternoon until six or seven at night, seven days a week. I spend a portion of my mornings trying to connect with my readers. I attempt to squeeze in exercise and time with friends whenever the opportunity arises. As my books have become more popular and well-known, I spend more and more time with family and friends. Today, I'm a faster writer with far less revisions than when I began.
What is the hardest part of being an author?
I'm an introvert. I find it difficult to share with people I meet that I'm an author. You need to be a long-time friend before I tell you I'm a multi-published, award-winning author. Unlike most of my writer friends, I don't share my writer life with neighbors, friends at church, or people I casually meet. I'm working on this, but it's hard. I find radio and TV appearances difficult. I've yet to make a podcast. But I'm working on these essential venues because I really want people to read my books.
What's one thing your readers should know about you?
I love to travel. I've been blessed with a husband who also enjoys travel. To date, I've visited every state in the US, including Hawaii and Alaska. I've visited some thirty foreign countries, yet there are more to be explored. I have a long bucket list.
How have you changed or grown as a writer?
I'm an eclectic writer. I began with serious books, then branched into mysteries and romances, and even humorous novellas. With the condition of our country at present, I've dipped a toe into writing about important controversial subjects like abortion. But above all, my purpose in writing is to entertain. To let readers escape whatever problems they may have and for a short while enter a world of fun, entertainment, or suspense. And to provide a bit of new knowledge on the journey.
Do you have other books? We'd love to know.
I've written thirty other books. Historic, Suspense, Mystery, and a bit of Humor.
What are you working on now?
I'm working on a novella which should release in June or July, titled A Time To Stand, about a girl living during the Gilded Age among Newport Rhode Island's new ultra-rich families. These parents, in order to enter the old-money, ultra-upper-class society, sell their beautiful daughters with a huge fortune, to titled Englishmen with huge estates they can no longer afford. The daughters, who left their homes and families to live with their titled husbands in England, become known as Dollar Brides. Most of these marriages became unhappy prisons for the girls. However, a few were happy. Cora, in Downtown Abby, was a Dollar Bride. The bride provided the money to maintain the English estate, and the title gave the parents entrance into Newport Society. In my book, one girl rebels.
Website:
https://www.annegreeneauthor.com/
Link to book: https://www.amazon.com/Anne-Greene/e/B004ECUWMG
Social media links: www.facebook.com/AnneWGreeneAuthor
https://www.goodreads.com/author/show/1873472.Anne_Greene
https://www.bookbub.com/authors/anne-greene
Follow me on social media!