The Miracle of Love!
About once a year I have had the privilege of being a contributing author to a book. In years past, I contributed to such books as Chicken Soup for the Soul: The Spirit of America, Ready to Wed, Supporting Families Through Meaningful Ministry, The Christian Leadership Experience, and Spiritual Mentoring of Teens as well as others.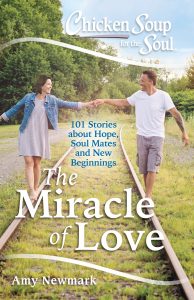 My latest contribution is to the new book, Chicken Soup for the Soul: The Miracle of Love. It releases today (here's the link), and the stories within its pages are inspiring, to say the least. The book has 101 stories about hope, soul mates, and new beginnings, stories of dating and romance, proposals and weddings, and second chances, including our second-chance love story. Each unique story touches the heart and encourages readers to revisit their own miracle of love.
Dale and I celebrate our 15thanniversary next month, so this book is a special gift I can give to my wonderful husband, Dale, for all his love and support through the years. As many of you know, our love story is a true miracle of love, one of redemption from broken marriages and a love that has brought both of us more joy than we ever could have imagined. Though we've struggled through more than a dozen major surgeries and cancer scares, and over a decade of battling Parkinson's disease, our commitment and love for one another remains strong.
Committed love is so important to us that we've served as premarital counselors and have had two Tyndale premarital books published to help couples prepare for first marriages [Countdown for Couples: Preparing for the Adventure of Marriage] and remarriages [The ReMarriage Adventure: Preparing for a Lifetime of Love & Happiness]. Couples arelooking for real answers to help them build successful marriages that last a lifetime. Knowing God's plan for a biblical marriage is foundational to finding true fulfillment. In these books couples will learn not only about each other, but also about themselves, their relational skills, and their compatibility as a couple. Sidebars from experts discuss the spiritual, emotional, social, relational, and physical intricacies of being married and provide extensive resources for continued marital education and growth.
You can read more about them here: http://www.susangmathis.com/premarital-booksand then click on the links to purchase them for yourself or someone who is dating, engaged, or recently married. These up-to-date and easy-to-use premarital guides will help individuals, couples, pastors, counselors, small groups, or premarital classes prepare for the adventure of marriage and remarriage.
I hope you'll consider immersing yourself in the stories within Chicken Soup for the Soul: Miracle of Love stories and check out our premarital books. I'm sure you'll be blessed.
What's your miracle of love? I'd sure love to hear about it!
Follow me on social media!