NEW RELEASE! Peyton's Promise is here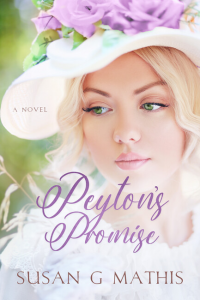 Peyton's Promise, my eighth Thousand Islands story, released yesterday! I hope you'll pick up a copy and enjoy the story. Here's the gist of it:
Summer 1902
Peyton Quinn is tasked with preparing the grand Calumet Castle ballroom for a spectacular two-hundred-guest summer gala. As she works in a male-dominated position of upholsterer and fights for women's equality, she's persecuted for her unorthodox ways. But when her pyrotechnics-engineer father is seriously hurt, she takes over the plans for the fireworks display despite being socially ostracized.
Patrick Taylor, Calumet's carpenter and Peyton's childhood chum, hopes to win her heart, but her unconventional undertakings cause a rift. Peyton has to ignore the prejudices and persevere or she could lose her job, forfeit Patrick's love and respect, and forever become the talk of local gossips.
~ ~ ~
And here's…the rest of the story:
In the 1980s I had the privilege of staying on Calumet Island when it was a bed and breakfast. My time there was so inspiring that I knew I had to write a story about it one day. Then, last summer, the caretaker graciously brought me over to the island for an afternoon of touring it, hearing stories, and recapturing the essence of the island.
Calumet Castle actually predated Singer Castle on Dark Island, setting for my recent novel, Devyn's Dilemma, and Boldt Castle on Heart Island, a popular tourist attraction today. Construction on Calumet Castle began in 1893 and finished a year later. Though not as elaborate as the other two, Calumet Castle had thirty rooms, plus the ballroom, as well as the many outbuildings you read about.
The Emerys are real. Charles Goodwin Emery was a New York City resident, entrepreneur, and tobacco tycoon. He made The New Frontenac Hotel on Round Island near Calumet Island a world class hotel that provided a wide variety of amenities and high standards of service at the luxury resort. He also donated to many causes and was a prominent benefactor around the islands.
In 1907, five years after this story, Mrs. Emery died on her husband's birthday, July 20. She'd been ill and it was her wish to spend her last days on the island. After that, Mr. Emery closed the castle.
Thanks to high taxes, the heirs abandoned the castle, and in 1956, the castle burned to the ground. Fortunately, the outbuildings, including the caretaker's house and the tower, remained unharmed. Since then, the island has been a marina, a bed and breakfast, and a restaurant. It is currently a privately owned summer retreat.
Patrick and Peyton—and their parents—as well as the other servant characters are fictional. I had lots of fun creating these people, many from bits and pieces of friends and family I love so dearly. Watch out, friends, you may be in my next book.
Calumet Island is still a popular landmark in the Thousand Islands. I hope you enjoyed hearing their stories and learning about this Gilded Age family, castle, and island.
Follow me on social media!