Melanie Dobson on WWII
Writing fiction is Melanie Dobson's excuse to explore abandoned houses, travel to unusual places, and spend hours reading old books and journals. The award-winning author of twenty books, Melanie enjoys stitching together both time-slip and historical fiction including Catching the Wind, Hidden Among the Stars, and Chateau of Secrets. Melanie's novels have won four Carol Awards, the 2018 Audie Award, and the ForeWord Book of the Year.
Tell us about your newest book.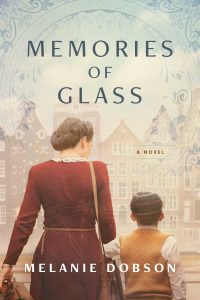 Memories of Glass is a time-slip novel inspired by the Dutch men and women who rescued more than six hundred Jewish children from a deportation center in Amsterdam during World War II. Almost eighty years later, Ava Drake, the director of the Kingston Foundation, begins to uncover the devastating story about her family's role in financing Hitler. As she and a child advocate named Landon West dig into the past, Ava discovers that her story is intertwined with the West family and an elderly Dutch woman who has spent a lifetime remembering a boy who was lost during the war. A boy she never expected to find.
What genre do you focus on and why?
I love to research and learn stories from the past, especially stories about ordinary people who did extraordinary things to fight against evil. In time-slip fiction, I can write a past story alongside a contemporary one to show the repercussions of something that happened long ago. I like peeling back the layers of a family secret to discover the reality of what really happened and how it continues to impact people today.
Why do you write? What drives you?
When I was a girl, I would peddle my bike to the bookmobile that visited the farmlands of Ohio each week. When I finished reading the stack that I'd crammed into my basket, I began creating adventures of my own and soon discovered that not only could I travel around the world on paper, I could process my own emotions and struggles through a story. Forty years later, I still process my own world through story, and I enjoy weaving together a number of different ideas into a plot. Also writing is a form of worship for me, a humbling and awe-inspiring partnership with the ultimate storyteller.
Who is your main character, and how did you choose that name?
My main historical character is Josie van Rees, a Dutch name that I thought fit her personality. Facebook readers helped me brainstorm the name for Ava Drake, my contemporary protagonist.
What does a day in your writing world look like?
It all depends where I am in the editorial/marketing process. An ideal writing day is heading to my favorite coffee shop after our girls head to school, ordering a green tea, and editing my words from the prior day so I'm instantly back into the story. Then my goal is to write two thousand new words. In the midst of writing, I'm also researching, creating new characters, working on marketing, and then helping my girls with homework and activities after school.
What is the hardest part of being an author? Why?
Probably getting lost in my story and then trying to return my brain to real life. My characters often start talking to me at the most inopportune times or I get caught up thinking strange things like: "How can I creatively kill off my bad guy?" or "What am I going to cook on the hearth tonight?" Or I'm struck with a great twist right in the middle of an important conversation and have to scribble it down. Writing fiction is an impossible job to keep between the hours of nine to five.
What's the best part of your author's life? Why?
I really enjoy learning new things so writing historical fiction is pure joy for me. Before I begin a new novel, I spend about a month researching by reading old books and oral histories and often traveling to the location where my story is set so I can experience what my characters see, taste, smell and hear.
What is your favorite pastime?
Dancing is my happy place along with exploring new places and family game nights where we make pizza and play Settlers of Catan.
Do you have other books? We'd love to know.
I've published twenty books and a handful of novellas. My latest novels are Hidden Among the Stars, Catching the Wind, and Enchanted Isle.
What are you working on now?
I'm in the midst of writing a biblical fiction story for Guideposts called An Eternal Love, based on the life of Tabitha. Then I'll be diving into another time-slip novel—this one set in Nuremberg during World War II.
Website: www.melaniedobson.com
Link to book:
Social media links:
https://www.facebook.com/MelanieDobsonFiction/
https://twitter.com/melbdobson
https://www.pinterest.com/melaniebdobson/
https://www.bookbub.com/authors/melanie-dobson
Follow me on social media!