Meet Susan Marlow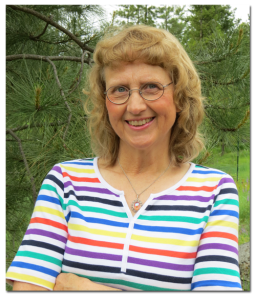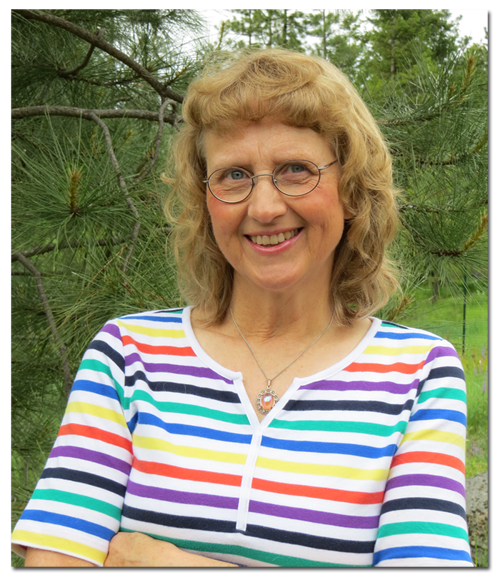 Susan is always on the lookout for a new story, whether she's writing books, teaching writing workshops, or sharing what she's learned as a homeschooling mom. She is the author of several series set in the Old West—ranging from new reader to young adult—and she enjoys relaxing on her fourteen-acre homestead in the great state of Washington.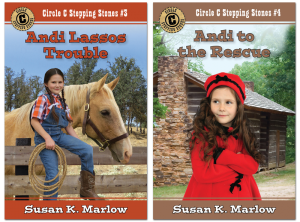 Tell us about your newest books.
Books 3 and 4 of the Circle C Stepping Stones series for young readers ages 7-10 continue the adventures of nine-year-old Andi Carter, who is growing up on a large cattle ranch in 1870s California. In Andi Lassos Trouble, Andi wants nothing more than to compete in the upcoming rodeo, but she's too young, and she's a girl. Andi to the Rescue finds Andi and her mother kidnapped in a case of mistaken identity by a gentleman outlaw who wants to learn to read and thinks Mother is the schoolteacher.
What genre do you focus on and why?
I focus on kids of all ages, from young readers ready for first-chapter books to teens. I'm just a kid at heart and want other kids to have a romping good time reading about spunky young heroines and heroes living during the time period known as the Old West. Four of my series focus on Andrea "Andi" Carter, sort of like a young Laura Ingalls in the same time period but with the wealthy ranching angle instead of the poor pioneer wanderer. My other series, Goldtown Adventures, features a twelve-year-old boy living the "dream" (not) in a rowdy, post-gold rush town near Mariposa, California.
Why do you write? What drives you?
I've written since I was a child and young teen. I loved to embellish and improve on some of my favorite books and TV shows of the 60s. It was so much fun to "beam out" (yes, I wrote Star Trek stories) or gallop into the Old West for an imaginary journey. I wrote only for myself and never intended to become a published author . . . ever! But God had other plans. He used a dear author friend to prod me into submitting to Kregel Publications (with her endorsement) and I was propelled—quite unwillingly—into the publishing world. Very. Scary. Deadlines and contracts took the joy out of my writing style for a season, but God used that time to teach me how to live by faith in this area. Now, I write for parents (and kids) at the dozens and dozens of homeschool conventions at which I vendor, who beg me for more books for their kids. I also create enrichment activities (study guides) and lapbooks to create year-long literature and language arts curricula for homeschooling families. So my reason for writing has changed—from self-motivated escapism to serving others.
Who is your main character, and how did you choose that name?
The main character in my four Circle C series is Andrea Carter, but if you want to stay on her good side, you'd best call her Andi. She starts out at age six, and the final book of the final series ends with her turning eighteen and marrying. I chose a name that I thought would go well with a prominent ranching family, but that could also be easily shortened to reflect her tomboyish high spirits. She's the youngest of six. Her father was killed in a ranching accident, and her older brothers run the ranch. She also has a couple of older sisters.
What does a day in your writing world look like?
When I'm under contract, I devote the mornings to writing, after asking the Lord to provide me with my daily "manna," i.e. words to complete a chapter or scene! Afternoons are times for walking in our pine forest and then checking out new marketing ideas.
What is the hardest part of being an author?
Writing the book! I always feel that I gave my all to the previous book in whichever series I'm working on at the time and have nothing left for a new book. Hence the desperate daily manna prayer.
What's the best part of your author's life?
Marketing! I love marketing. I love creating bookmarks. I love messing with my website and figuring out how to stuff the next new books into a tri-fold brochure. I love vendoring at homeschool conventions around the country—meeting parents and having kids and teens come up and say, "I love your books. Can we have a picture together?"
What are you most proud of?
Looking at a published book and wondering, "How in the world did this come to be?" I'm proud of taking the scary step of faith and saying "yes" to my publisher when he asked me to either add more books to a series or come up with another new Andi series.
What is your favorite pastime?
I like to go on walks in the forest, but mostly I like to help my daughter (with eight children) homeschool. The children use my books and curricula for their literature and language arts, and it's fun to hear one of them say, "Grandma, I found a mistake in the study guide." They are my quality control team.
Do you have other books? We'd love to know.
I have six Circle C Beginnings books (for ages 6-9), there will eventually be six Circle C Stepping Stones books in all (ages 7-10), six Circle C Adventures (ages 9-14), four Circle C Milestones (ages 12 and up), and four Goldtown Adventures (ages 8-12).
What are you working on now?
The activity pages and lapbook activities for the upcoming books 5 and 6 of the Stepping Stones. They are almost as much work as writing the 16,000-word books. But I'm a teacher and do love creating wholesome and educational materials to give a book a longer life.
Website: CircleCAdventures.com
Link to books: https://circlecadventures.com/stepping-stones-special-purchase/
Social media links: FB group page: https://www.facebook.com/groups/CircleCAdventures/
Instagram: https://www.instagram.com/susank.marlow/
Follow me on social media!