Meet Melanie Dobson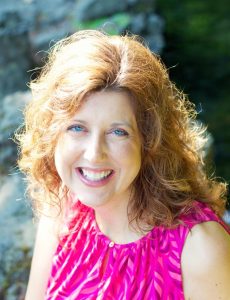 Writing fiction is Melanie Dobson's excuse to explore abandoned houses, travel to unique places, and spend hours reading old books and journals. She enjoys weaving together time-slip stories, and her novels have won awards for historical romance, romantic suspense, and historical fiction. Melanie and her family live in the Pacific Northwest.
Tell us about Catching the Wind.
Several years ago, as I sat down to brainstorm a new novel, I looked out the window in my favorite coffee shop at a marvelous old tree with its sturdy branches and dangling leaves that ballooned like a giant umbrella over the people drinking coffee and tea below. In my mind's eye, I saw two German children—the best of friends—playing high among those branches. In a tree house. They were in danger though at the time I didn't know what threatened them. I just knew the boy and girl had to run. And the girl would be lost along the way.
As I sipped on my tea, the story of Dietmar and Brigitte began unfolding, coming alive on my computer screen. The rest of Catching the Wind is about what happened to these friends after they ran away, and Dietmar's seventy-year search to find his friend.
What genre do you focus on and why?
I've written romantic suspense, historical romance, general historical, mystery, and contemporary fiction. I've enjoyed all of these genres and am, in a sense, combining them now as I weave together historical and contemporary plots in my time-slip novels.
Why do you write? What drives you?
I've enjoyed dreaming up story ideas and keeping a journal since I was a child. When I was nine, I typed out my "autobiography" (it was only a few paragraphs) and eventually went to college for journalism. After a few years working in public relations and writing newspaper articles, I felt as if God was prompting me to pursue my dream of writing fiction. It took seven years—and multiple manuscripts—before my first novel was published. Each time I think about returning to public relations now, another idea sparks in my heart and mind and I begin writing another story….
Who is your main character, and how did you choose that name?
The main character in my contemporary plot is Quenby Vaughn. I have a friend whose sister-in-law is named Quenby, and the first time I heard her name, I knew I wanted to use it for a character. In the past story, my male protagonist's name changes from Dietmar Roth to Daniel Knight. This was very intentional, but I'd give away the storyline if I told you why.
What does a day in your writing world look like?
It depends on where I am in the process, but usually I'm at the coffee shop writing chapters, creating new characters, and editing my draft. I start my morning by editing my previous day's work and then add about 2,000 more words to the manuscript. My favorite days are the ones when I'm immersed in mounds of research books or exploring a new setting as I dream about my next story.
What is the hardest part of being an author? Why?
Receiving harsh reviews is no fun, especially after I've poured myself into researching and writing a novel. And some days, editing is really hard for me. I can be rather averse to change.
What's the best part of your author's life? Why?
I enjoy creating stories and learning new things. I'm very grateful for the opportunity to do both of these things as a writer.
What are you most proud of?
My daughters, Karlyn and Kiki. As of this summer, they are both teenagers, and it's such a treat to watch them grow in their faith and confidence and love of story.
What is your favorite pastime?
My imagination is fueled by exploring ghost towns, abandoned houses, old chapels, and forgotten cemetery. My family thinks I'm weird, but the wondering about those who once lived and/or were buried in these places inspires me.
Do you have other books? We'd love to know.
Thanks for asking! I've written about twenty novels now—some of my most recent ones are Chateau of Secrets, Enchanted Isle, and Shadows of Ladenbrooke Manor. Readers can find a complete list of my books here: http://melaniedobson.com/books/
What are you working on now?
I'm writing a time-slip novel about treasure that was hidden in Austria's lake country during World War II. In the contemporary story, my protagonist discovers a list in an old book that connects her with an Austrian woman who lived during the war, and she determines to find out what happened long ago.
Website: www.melaniedobson.com
Link to book: https://www.amazon.com/Catching-Wind-Melanie-Dobson/dp/1496417283/ref=tmm_pap_swatch_0?_encoding=UTF8&qid=&sr=
Social media links: www.facebook.com/MelanieDobsonFiction and @MelBDobson
SaveSave
SaveSave
SaveSave
Follow me on social media!