Meet Ellie Gustafson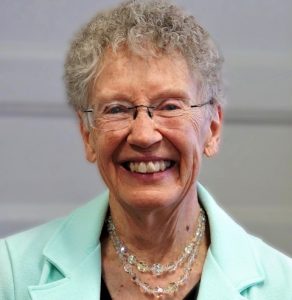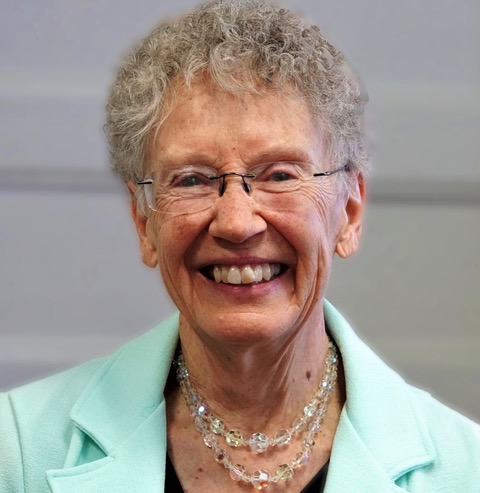 Ellie Gustafson grew up in Branchville NJ, in a county with more cows than people. She attended Wheaton College in Illinois as a music major, then married a pastor/college professor/tree farmer/organist and writer. Together, they have three children and eight grandchildren. Ellie's early writing attempts saw friends—and even her mother—advising her to stick to music as a career. An Unpresentable Glory is her sixth novel.
Tell us about your newest book.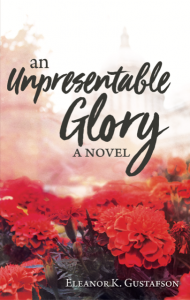 An Unpresentable Glory is a multi-dimensioned love story. A stranger, more dead than alive, shows up in Linda's garden. She cares for him and only later learns who he really is. An investigative reporter uncovers the secret, and both Linda and her guest are vilified.
The story has an American Indian component. Kill the Indian, and save the manbecame the watchword of this brutal project. Other fascinating stories are woven together in this complex tapestry that blazons the glory of God.
What genre do you focus on and why?
I've jumped around a fair amount, for no other reason than I wanted to. Imaginations are, after all . . . imaginative. I've written contemporary, time travel, speculative, and biblical fiction.
Why do you write? What drives you?
My mother fed me story from a young age, and it nourished my DNA. God first touched me through story and then made the bigger story come alive. I love Him passionately and want to communicate His love.
Who is your main character, and how did you choose that name?
The book has two main characters. One goes by the name Jay in the first few chapters, but telling more would spoil things. Linda's official name is Kileenda Jensen. Her parents, deep-rooted in Westchester County, New York, had made tiresomely sure she knew her uncommon heritage and social standing. Linda, though, was comfortable with a plain name because her real worth did not rest on money or position. I waffled between two names—Kileenda and Eileenda—both patterned after a missionary friend named Kyleen.
What is the hardest part of being an author? Why?
Marketing is hard. You have to know things that are foreign to story DNA. Market resources are available, but my math-challenged brain is also marketing challenged. I do, however, love doing blogs and interviews. Thank you, Susan!
God has been gracious, though.  At a recent conference, I was feeling bad about my tendency to misuse people's time and confessed it to God. When I returned to my book table, a young man came with money in hand to buy a book. Gift enough, but we somehow got talking about King David, and I asked if he would like me to read a passage from The Stones. He sat enthralled as I read of the prophet Nathan's confrontation with David over his sin with Bathsheba. He loved it and declared his intention of buying the Kindle version. I, in return, hugged him for allowing me to read (which I love doing and do well). I saw this as a special, handcrafted gift from God.
What's the best part of your author's life? Why?
Loving and talking with people about things that matter is right up there.
What is the craziest thing you've experienced as an author?
En route to a TV presentation, I belatedly realized that airport Security takes a dim view of penknives in jeans pockets, and I had forgotten to shift mine from my pocket to my luggage. What to do? Spotting a large, potted plant near the door, I looked around surreptitiously and "planted" the knife next to the stem and went through the line. I returned the next day, retrieved the knife—damp and dirty—and left the airport smiling. Cathy at Whitaker House said, "Thank God we didn't get a call from the county jail to post bail for you!"
What are you most proud of?
I think I take the most pleasure (not pride) in the gift of Love that God has granted me. It's not natural to me, and it came relatively recently. I love people—in church, in whatever book venues, on email—and receive much love in return. Here's a quote from a book I'm currently reading: "Christianity is the world's great love religion. . . . The Christian God woos us with love and works our transformation through love" (Surrender to Loveby David Benner).
Do you have other books? We'd love to know.
I have five:Appalachian Spring, Wild Harvest, Middle Night,The Stones, and Dynamo.
What are you working on now?
My next project is to stop writing. In what time remains to me, I hope to have space to smell the roses, read for pleasure, and listen to music that makes me cry. The segue into heaven could be abrupt and definitive, but it could also be reflective of a life full of learning and adventure, of growing into the real person that God has been shaping these many years.
Website:www.eleanorgustafson.com
Link to book:An Unpresentable Glory https://tinyurl.com/y9lpft6a
Social media links:
Facebook: Ellie Gustafson
Twitter: @EgusEllie
Pinterest: Ellie K Gustafson
Goodreads: Eleanor Gustafson
Follow me on social media!