Meet author Susan Anne Mason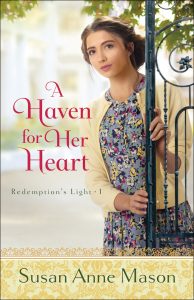 Susan Anne Mason's debut historical novel, Irish Meadows, won the Fiction from the Heartland contest from the Mid-American Romance Authors Chapter of RWA. She is the author of the Courage to Dream Series and the Canadian Crossings series. Also a member of ACFW, Susan lives outside of Toronto, Ontario, with her husband and two adult children. She loves red wine and chocolate, is not partial to snow even though she's Canadian. Learn more about Susan and her books at www.susanannemason.net.
Tell us about your newest book.
My book is called "A Haven for Her Heart" and it's about a young Italian girl who is disowned by her parents when she ends up pregnant. She is taken in by an elderly widow with a similar past, and the two decide to open a maternity home for unwed mothers. Along the way, a handsome Greek businessman tries to thwart their efforts but ends up being charmed by Olivia and her altruistic endeavor.
What inspired you to write A Haven for Her Heart?
An article I read in the Toronto Star about a woman who had been arrested in the 1930s for being pregnant and unwed. She was sent to the Mercer Reformatory for women where she endured unspeakable conditions. I used this as the backstory for my heroine and paired it with the idea I'd had to write a book about a maternity home.
How would you describe this book to someone in a 30-second blurb?
A disgraced young woman tries to redeem herself and overcome her shame by opening a home for unwed mothers and in the process falls for the man who is trying to stop her.
What genre do you focus on and why?
I write Christian historical romance. I never thought I'd want to write historicals but after I started researching my family history with Ancestry.com, I became fascinated with my relatives and their stories. The story of my great-great grandfather, a stable boy, and his romance with the kitchen maid actually inspired my Victorian historical "A Most Noble Heir".
Why do you write?
I'm not sure exactly. My love of reading inspired my first attempts at writing. Once I paired it with my faith, I began to love inspiring others with messages of God's unconditional love and forgiveness.
Who is your main character, and how did you choose that name?
My main character is Olivia Rosetti. She is a young woman of Italian descent. I chose the name Olivia because I love the name, and Rosetti because it fit well with her heritage.
What is your work schedule like when you're writing a book?
I work part-time weekday mornings for a local church. Afternoons are spent at least in part working on my writing. When it gets close to a deadline, I often work again after dinner until around 8:00 pm when my brain stops working. LOL.
What is the hardest part of being an author?
Juggling multiple books at once! Often I'm starting a new book and just as I get the momentum going, I have to stop to do major revisions on the previous book, while promoting the release of a third book. For me it's really hard to stop work on a project to go back to another set of characters. But you do what you have to do!
What's the best part of your author's life?
I would say it's holding a new book in your hand – when all your hard work has come to fruition and your 'baby' is going out into the world! That and creating new characters and stories!
What's one unusual fact about you?
I have a university degree in French and once considered becoming a French teacher.
How have you changed or grown as a writer?
I have learned a lot over the last 10 years. The main improvement in my writing is how to evoke emotion through my characters. It's something I still work hard to get right.
What is your favorite pastime?
Reading!!! Does that surprise anyone?? I love reading all types of Christian romance.
Do you have other books? We'd love to know.
I have over 12 books. My first foray into publishing was with White Rose Publishing, a 3 book contemporary series set in the fictional small town of Rainbow Falls, ND. I have one Love Inspired romance called Healing the Widowers Heart. And I have two series with Bethany House: The Courage to Dream series and the Canadian Crossing series. Plus a standalone Victorian romance. For all my books, please visit my website: susanannemason.net.
What are you working on now?
I'm doing edits for Book 2 of the Redemption's Light series called "To Find Her Place" and working on writing Book 3. Juggling again!
Website:  susanannemason.net
Link to book:
Amazon:  https://tinyurl.com/yynbmyrj
Bethany House / Baker Publishing:  https://tinyurl.com/y4lybd4q
Christianbook.com:   https://tinyurl.com/y2p24cgb
Barnes & Noble:   https://tinyurl.com/y5zacram
Social media links: https://twitter.com/samason,  @samason,
https://www.facebook.com/susan.anne.mason.333
https://www.instagram.com/sbmason123/
Follow me on social media!