Meet author Molly Jebber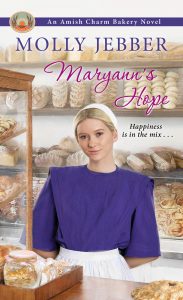 Molly Jebber's Amish Historical Romance award-winning books have made Publisher's Weekly Best Ten List, offered live interviews on news sites, received near excellent ratings from RT, and been featured in USA HEA. She's a national speaker for Women's Christian Connection, and guest lecturer at Ohio State University, libraries & conferences on writing, publishing, and marketing. She loves God, her family, and friends. She says yes to cupcakes, and no to coconut!
Tell us about your newest book.
Maryann fell in love and left her Amish life and a controlling mother. She's ready to return to Charm, Ohio, when her dishonest and gambling husband is murdered. She has her baby girl, is accepted by her Amish family, and works in the Amish Charm Bakery where she makes new friends. Andrew Wittmer asks to court her. They fall in love, and she's ready to marry him. But her mother is ill and needs her. His uncle lives in another town and needs him. They aren't sure what to do. Andrew has a secret, and when it's revealed, Maryann's heart is shattered. Will God intervene and make what looks impossible possible for Maryann and Andrew?
What genre do you focus on?
Amish Historical Romance – I have visited Amish communities for years. I don't agree with everything they do, but I love their devotion, belief, and trust in God. I wear makeup, cute shoes, and have to blow dry my hair with an electric blow dryer! They would not approve. But they have been kind and helped me with research, and some like reading my books. I like writing Amish stories, because I can share how we have problems and make mistakes, but God doesn't leave us or forsake us.
Why do you write?
My hobby became a job when I acquired an agent and New York Publisher, and they drive me to meet their deadlines. Really, it's fun to create stories and share them with readers.
Who is your main character, and how did you choose that name?
Maryann. She feels guilty for leaving her mother and marrying a non-Amish man. She's strong to take care of herself and her daughter and humble enough to return to Amish life. She has difficult decisions to make. You sympathize with her, root for her, and wonder how she'll ever have a life with Andrew.
What is your work schedule like when you're writing a book?
I have a word count to achieve each month, and I have marketing goals to achieve to keep my books known to readers. I live in two places. When I'm in Florida, I love to be outdoors and my husband and friends keep me busy with lots of fun. This means I get up early and stay up late to keep on schedule!
What is the hardest part of being an author?
COVID makes it hard being an author. I want to speak in person instead of on Zoom. I want to hug my readers.
What's the best part of your author's life?
The readers. I had no idea how many wonderful people I would meet at speaking events. The gifts, cards, and emails from readers saying they like my books mean so much to me. They encourage and inspire me to keep writing when I get discouraged. Readers' posts and comments on social media help us get to know each other better. They encourage and inspire me. Also the authors I've met who have become good friends.
What's one unusual fact about you?
I lost my hearing in my left ear completely in 2014. After a heavy dose of steroids, it came back seven days later. This past year, the same thing happened in my right ear. This time, my hearing didn't come back until two weeks later. It's a humbling experience, and I appreciate my hearing more than ever now.
How have you changed or grown as a writer?
Lots of people told me I would never get an agent or big publisher. They said it's too hard. God says all things are possible through Him. I believed if it was His will for my life, it would happen. It wasn't easy, but I love my agent and my editor-in-chief. They are both so good to me, and I give God all the glory for all He's done in my life. He's helped me to grow as a writer.
What is your favorite pastime?
I love to swim in the pool and ocean.
Do you have other books? We'd love to know.
Keepsake Pocket Quilt Series, Amish Brides, and Amish Charm Bakery series
What are you working on now?
I've turned in book five for this series, and I'm working on book six. You'll have to wait and be surprised at these stories!
Website: http://www.mollyjebber.com
Link to book: https://www.amazon.com/gp/product/B087YTQV8L/ref=dbs_a_def_rwt_bibl_vppi_i8
Social media links:
http://www.facebook.com/mollyjebber
http://www.twitter.com/mollymjebber
https://www.bookbub.com/authors/molly-jebber
https://www.pinterest.com/mollyjebber/_created/
Follow me on social media!