Meet author Rachelle Paige Campbell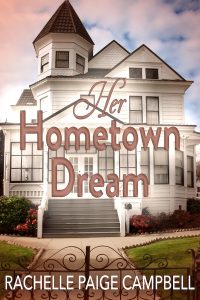 Rachelle Paige Campbell writes contemporary romance filled with heart and hope. No matter the location—big city, small town, or European kingdom—her feel-good stories always end with a happily ever after. She's grateful for the support of her family, her robot floor cleaner, and her reluctant writing partner (her dog).
Tell us about your newest book.
Amy Parker returns to her hometown for a two-week visit before moving on to take a job she really doesn't want. But when the historic mansion that sparked her passion for history hits the market, she thinks she's finally found a way to stay for good. With the help and support of family and friends, Amy sets out to make her lifelong dreams come true. The tenth anniversary of the tragic death of Jake Grant's best friend is fast approaching, and all he wants to do is create a charity to honor him. Too bad Jake has no idea what he's doing. To make matters worse, the woman he holds responsible for his friend's death is back in town, and she doesn't seem to be going away anytime soon.
What inspired you to write Her Hometown Dream?
In my personal life, I was dealing with a lot of grief and channeled that into this book and the series. Grief is a complicated emotion with no time limit. Sorting through the aftermath of a tragedy a decade later—and struggling with forgiveness—inspired me.
How would you describe this book to someone in a 30-second blurb?
Her Hometown Dream is a story of second chances. Amy and Jake have the chance to be honest with each other about their feelings. The truth isn't always easy but together they find an unexpected path forward.
What genre do you focus on?
I focus on contemporary romance because I am interested in telling stories set in our society. I write a lot of sweet romance but found including a faith element only strengthened the core story. I hope readers agree!
Why do you write?
I have loved to write my entire life. Being a published author was my childhood dream. I am encouraged to keep going because I want my kids to see me working hard for my dreams so they are inspired to do the same.
Who is your main character, and how did you choose that name?
My main character is Amy Parker, and I chose the name based on looking up popular names during the year she was born on the Social Security website. In this book, I do have a character with the last name Kidwell who was the class clown. That is the closest I've ever gotten to naming someone based on their personality like Charles Dickens did.
What is your work schedule like when you're writing a book?
I aim for consistency during a first draft. I will spend time building an outline and scene by scene breakdown so I know exactly what needs to happen in the story (but the how can change and that's a lot of fun). But once I start, I have to write every day until it is complete (so I always double check the calendar for any days I can't work).
What is the hardest part of being an author?
Making time to write and respecting the hours I've set aside. I had to learn how to structure my day because I felt like my writing bled into family time and vice versa.
What's the best part of your author's life?
I share an office with my husband, and I love that he's nearby. He's worked from home for years. We had an adjustment period when I officially moved into the same space but now it's lovely.
What's one thing your readers should know about you?
I moved overseas for grad school and lived in a boarding house run by nuns. They were the most wonderful group of women and I don't think I could have survived the year without them.
How have you changed or grown as a writer? 
The magic comes during edits. When I first started, I hated edits. Now, it's my favorite part. After I write a first draft, I write the synopsis. I get so much clarity from telling myself what happened! Sometimes, I will fix a few issues right away. Most of the time, however, I take a couple weeks off. I might start plotting a new book or editing another. While I'm distracted, I'll be thinking about the book the entire time. I love getting feedback from my agent, critique partners, and editors, too. Each round makes the book shine.
What is your favorite pastime?
I love to travel and garden. I live in the Midwest so gardening is on hold at the moment. I've started knitting and am really having fun as I learn.
Do you have other books? We'd love to know.
I do! Her Hometown Dream is my first Christian romance. I have several other books in the sweet contemporary romance genre, including my Finding New Hope trilogy. Lights, Cameras, Holidays, the third book, just published in December from The Wild Rose Press.
What are you working on now? 
I am editing the sequel to Her Hometown Dream, due this spring from Anaiah Press, and I'm working on a brand-new sweet, cowboy series.
Website:  https://rachellepaigecampbell.com/
Amazon: https://www.amazon.com/dp/B09N2QFYK7
Barnes & Noble: https://www.barnesandnoble.com/w/her-hometown-dream-rachelle-paige-campbell/1140636515?ean=2940165652233
Apple iBooks: https://books.apple.com/us/book/her-hometown-dream/id1598841265
Kobo: https://www.kobo.com/us/en/ebook/her-hometown-dream
Social media links:
https://twitter.com/rpaigebooks
https://www.instagram.com/rachellepaigebooks/
https://www.bookbub.com/authors/rachelle-paige-campbell
Follow me on social media!