Meet author Paula Peckham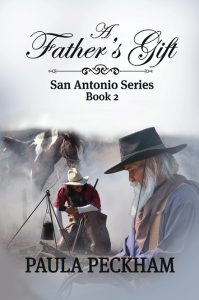 A fifth-generation Texan, Paula Peckham graduated from UTA. She worked at Burleson High School for 19 years as a math teacher. She divides her time between Burleson, Texas, and Rio Bravo, Mexico. She and husband John have four children and nine grandchildren. Her debut novel, Protected, was a semi-finalist in the 2020 ACFW Genesis contest. Paula has an online presence on Facebook, Twitter, Instagram, and www.paulapeckham.com
Tell us about your newest book.
A Father's Gift is book two in my San Antonio series. Originally written for a Christmas anthology, my publisher picked it up and added into the series. The story follows the lives of my characters from book one, Protected, two years later. I originally intended for it to loosely follow the story of the birth of Jesus in a barn, complete with angel Gabriel, but, as stories tend to do, it took on a life of its own and ended up going a completely different direction.
What inspired you to write A Father's Gift?
I used the characters from book one since I already knew them and the setting. Thanks to an extremely clever plot twist idea, I got from one of my critique partners, the story morphed into something much more complex than my original sweet Christmas story idea.
How would you describe this book to someone in a 30-second blurb?
Abby and Manny Blair anticipate the birth of their first child. Orphaned at age eighteen, Abby prays daily for a safe delivery and a future with her child. Manny yearns for guidance from his own father, who died when Manny was only five years old. His grandmother, Yaideli, raised him, doing her best to stand in the gap. It's nearing Christmas and the babe's birth. His adventure of discovery finds something completely unexpected. Abby and Manny receive a precious gift—learning about the love and sacrifice only a father can give.
What genre do you focus on and why?
Historical romance. It's always been one of my favorites to read. I enjoy the happily-ever-after endings of romance, and I like learning new things when reading historicals.
Why do you write?
I write because I have stories in my head, and God gave me the talent, such as it is, to write them down and share them. I want other people to realize being a Christian doesn't mean being perfect. I hope my stories show people living their lives, struggling with problems and doubt, but who learn they can depend on God no matter what.
Who is your main character, and how did you choose that name?
In book two, the main character shifted more to Manny. Usually, I end up focusing a little more on the female character, but Manny took the stage in A Father's Gift. Manny is Hispanic, and I borrowed the name from one of my friends in Rio Bravo, Mexico.
What is your work schedule like when you're writing a book?
Schedule? That would imply structure and planning. My goal is to write 1,000 words a day at the minimum. But marketing, research, the business end of things – all that takes time, and some days I don't make my goal. I feel very unorganized some days, and I know this is an area where I could improve.
What is the hardest part of being an author?
I saw a meme once that said, "Deciding to become an author means you agree to have homework every day for the rest of your life." It's so true. There is always something else to learn, whether it is about the craft of writing, or learning how to format in Word, or create social media posts in Canva, run an ad in Amazon, or increase your email list … this list goes on and on.
What's the best part of your author's life?
I am doing something I love. I have the freedom to set my schedule (or not… see the previous answer). And what I'm doing will hopefully affect a reader's life somewhere, for the glory of God.
What's one thing your readers should know about you?
I took a class about how to launch your books, and the first thing I had to do was realize who I am, at my core, as an author. They instructed me to send ten emails to people who were very close and ten more to acquaintances. I asked them to list three words that came to mind when they thought of me. (This was uncomfortable for me to do, by the way.) The word that came back the most often was social justice. It surprised me but shouldn't have. That is indeed something very important to me at my very core. So, you will always find at least a tiny thread of social justice woven into my stories.
How have you changed or grown as a writer?
I've gained confidence. I think all writers struggle with imposter syndrome when they first start out. What gives us the right to call ourselves authors? Somewhere along the way, that faded and disappeared. I know so much more about the craft of storytelling now. I feel like I can write a good book.
What is your favorite pastime?
Reading!! Always.
Do you have other books? We'd love to know.
Protected is book one in this series. I also have contributions to the Christmas anthologies, Christmas Love Through the Ages and Texas Heirloom Ornament.
What are you working on now?
I'm working on book three in my series as we speak. Look for Accepted to come out sometime next spring.
Website: www.PaulaPeckham.com
Link to book: https://tinyurl.com/PeckhamFathersGift
Social media links:
Facebook: https://www.facebook.com/PaulaPeckhamAuthor
Twitter: https://twitter.com/PaulaPeckham
Instagram: https://www.instagram.com/paulajopeckham/
TikTok: https://www.tiktok.com/@paulapeckham
Amazon author page: https://www.amazon.com/~/e/B09FP2JPR6
Goodreads: https://www.goodreads.com/author/show/21803544.Paula_Peckham
Pinterest: https://www.pinterest.com/ppeckham/books/
Bookbub: https://www.bookbub.com/profile/4140515461
Follow me on social media!