Meet author Gina Holder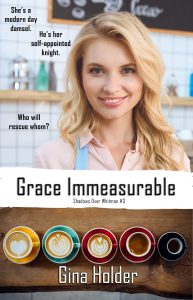 Gina Holder is an indie author and stay-at-home mom. She's had an infatuation with books for as long as she can remember. She loves introducing readers to new and new-to-them authors on her blog. Gina enjoys playing the piano, cooking, reading, watching Hallmark mysteries, and solving "escape room" puzzles. She published her debut novel in 2017. Gina lives in Colorado with her husband and daughter.
Tell us about your newest book.
She's a modern-day damsel. He's her self-appointed knight. Who will rescue whom?
Kylie just wants to run her café without people thinking she's a damsel-in-distress. That proves difficult when a man claiming to be her half-brother reveals buried family trauma and forces Kylie to face the scars of her childhood. Peter doesn't mean to be a knight in shining armor, but as her proverbial big brother, he decides to uncover the truth about Kylie's semi-sibling, while trying to make peace with his own mistakes. Unearthing the past leads to a danger greater than either ever expected. In the end, who will rescue whom?
What inspired you to write Grace Immeasurable?
This is the final book in the Shadows Over Whitman Series. Kylie is an important character in the first two books, and it was finally time to tell her story.
How would you describe this book to someone in a 30-second blurb?
Emotionally scarred girl goes from Damsel-in-Distress to Warrior Princess.
What genre do you focus on?
Women's Suspense Fiction. I enjoy writing a novel with a love story and all the twists and turns of a suspense. However, I also like to dive into the emotional inner journey of the female character. I feel this genre best allows me to tell the stories I want to share.
Why do you write?
I've been telling stories for as long as I can remember. I love being able to share the truths of God's word through fiction.
Who is your main character, and how did you choose that name?
The main character is Kylie Phillips. I don't know why.
What is your work schedule like when you're writing a book?
I'm a stay-at-home Mom. I usually start writing after cleaning up the kitchen from the previous night's dinner, then break for lunch, then write again until dinner.
What is the hardest part of being an author?
The writing part? LOL! Crafting a complete story is difficult for me. I'm great with ideas and my characters come to life on the page but creating a novel from start to finish takes time and a lot of banging my head on my desk.
What's the best part of your author's life?
The readers! There is nothing quite like hearing that someone loved your book or that it touched their heart.
Do you have other books? We'd love to know.
I've written four other books—three novels and one novella. Information about each of them can be found on my website at storiesbygina.wordpress.com. My debut novel is a historical missionary romance, but the others have been contemporary romantic suspense.
What are you working on now?
After finishing Grace Immeasurable, my next project is The Escape Game, a prequel novel to my next series, The Game Master series. I'm excited to move (figuratively) from the Pacific Northwest to New England and introduce my readers to a whole new set of characters, as well as share my love of puzzles and escape rooms.
Website: http://storiesbygina.wordpress.com
Link to book: https://www.amazon.com/Grace-Immeasurable-Shadows-Over-Whitman-ebook/dp/B09HP8MVHV
Social media links: Blog: http://storiesbygina.wordpress.com
Facebook: http://facebook.com/storiesbygina
Instagram: http://instagram.com/storiesbygina
Twitter: http://twitter.com/storiesbygina
Amazon: https://www.amazon.com/Gina-Holder/e/B074HC9SHX
Bookbub: https://www.bookbub.com/profile/gina-holder
Goodreads: https://www.goodreads.com/author/show/17074375.Gina_Holder
Follow me on social media!