Meet author Denise Weimer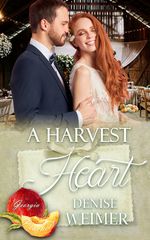 Denise Weimer writes historical and contemporary romance and romantic suspense, mostly set in her home state of Georgia. She's authored a dozen traditionally published novels and a number of novellas. An editor, wife, and mother of two daughters, Denise always pauses for coffee, chocolate, and old houses.
What inspired you to write A Harvest Heart?
The novella is #16 in The Georgia Peaches Series, faith-based contemporary romances all set in Georgia.
Tell us about your newest book.
Hope Richardson is good at just that—hoping. Problem is, she's often disappointed—by fathers who die, boyfriends who ghost her, and promotion at her event planning firm. It's her twin sister, Faith, for whom things work out. When Faith's fiancé lands an out-of-town job, Hope is called home to plan a wedding in the Georgia foothills … and jumpstart the tea room Faith was supposed to run with their mother.
Of all the people to make the first reservation for his family farm's new event barn, Tucker Bradshaw least expects Hope Richardson. She might've rebound-dated him their senior year of high school, but she was all too eager to run back to the star football player in college. Always wanting something bigger and better than their hometown of Clarkesville. Than him.
Her sister's wedding plans land Hope in the midst of the opening season for Tucker's corn maze. When a harvest romance reignites, Hope searches for the faith to finally live up to her name.
How would you describe this book to someone in a 30-second blurb?
A pumpkin farm, a tea room, Friday night football, and a second-chance romance with an old high school flame—what's not to love about this autumn novella?
Who is your main character, and how did you choose that name?
Since the MC is a twin, I wanted to pick likely twin names without too much alliteration. The names Hope and Faith reflect the girls' characters. Hope has experienced so many disappointments in life, she assumes she deserves to be last on any list. When the breakthrough she's been waiting for doesn't look like she expects, she risks missing the blessings God has for her. She has to draw on the faith she's shoved aside to rekindle hope for her future.
What is your work schedule like when you're writing a book?
I write from my home office while my husband is at work. After breakfast and devotions, I usually check email and take care of smaller business, then set to writing around mid-morning. I break for lunch and continue into the afternoon, usually grabbing a cup of tea around two.
What is the hardest part of being an author?
Gaining marketing and sales traction in today's industry where everyone can establish a platform and publish a book. There are so many great authors out there.
What's the best part of your author's life?
Two things come to mind … that moment when I know I've written a scene in a way that pleases the Lord … and when a reader shares that her life has been positively impacted by something I've written. Those moments make all the hard work and long periods of waiting feel worthwhile.
How have you changed or grown as a writer?
I usually answer this question by pointing to how my training and experience as a professional editor has sharpened my writing. And that's true. But I'd also say maturity has focused it. When I was a teen and in my twenties, I was content to write romances about pretty young girls in pretty gowns who fall in love with Prince Charming. Now I weave deeper themes into my stories—even the fun, Hallmark-style ones—whether it's a character who fights perfectionism or insecurity or needs healing from an old wound. As our world grows more contentious, I find it harder and harder to write about surface issues. And I realize more and more how pointless it is to pen a story unless it's God-inspired.
Do you have other books?
We'd love to know. Yes! My most recent historical, Bent Tree Bride, released this spring, set on the Southern frontier during The War of 1812. I write everything from fun and fluffy contemporary romances to deeper, gripping stories of action, character transformation, and redemption. Check them all out at https://www.deniseweimerbooks.com.
What are you working on now?
My WIP is a novella for a collection set among the Gilded Age hotels of Florida. Here's a short blurb: Ellie Hastings finds detective novels superior to real life—until encountering a diamond theft and an intriguing inventor, Lewis Thornton, while investigating bachelors for her cousin. Her bungling attempts to interpret the clues only prove that magic and romance will have their way at the White Queen on the Gulf.
Website: https://www.deniseweimerbooks.com
Link to book:
Social media links: Monthly Newsletter Sign-up
Follow me on social media!