Meet author Carol Heilman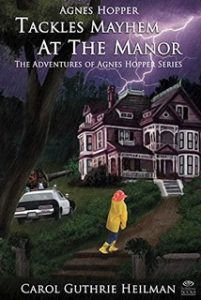 Carol Heilman, a Kentucky coal miner's daughter, married her high school sweetheart, a farmer's son. She began writing family stories for newspapers and magazines. One day her mother said, "We don't have any secrets anymore!" Carol's book series, Agnes Hopper Shakes Up Sweetbriar, Agnes Hopper Bets on Murder, and Agnes Hopper Tackles Mayhem at the Manor, was inspired by her mother's spunky spirit and her dad's sense of humor.
What inspired you to write Agnes Hopper Tackles Mayhem at the Manor?
I've always had a heart for innocent people who have to endure the scorn or ridicule of others who are convinced of their guilt. In this book, Agnes is confronted by two people who seem guilty in her eyes, but will the facts support her gut feelings or prove her wrong?
How would you describe this book to someone in a 30-second blurb?
Agnes Hopper, as the new owner of her retirement home, Sweetbriar Manor, thought her life would be as enjoyable as sharing a cup of tea with her best friend and love interest, Smiley, but when she discovers money missing from the cash box she immediately suspects the Manor's administrator, Mr. Lively, as the thief. Before she can untangle her thoughts, a woman, Zelda Dee, appears from the local halfway house and assumes Agnes will hire her as a manicurist for the residents. Agnes sends her on her way. Add to the unsettling mix a fire, a kleptomaniac, and a storm of the century bearing down upon the town and mayhem is the result.
What genre do you focus on and why?
The Agnes Hopper series is considered both cozy mysteries and women's fiction.
Why do you write?
I attempt to write for those who won't or can't speak for themselves. In the beginning, I didn't even realize I was doing this until an author friend pointed this out.
Who is your main character, and how did you choose that name?
Agnes Hopper. Her spunky, 'take charge' spirit is inspired by my mother. Her maiden name was Hopper.
What is your work schedule like when you're writing a book?
I have learned to write whenever and wherever I can these days. Even though my husband and I are retired, my schedule is flexible to include time to take long walks together or to go out for lunch or dinner. And we love spending time with our young grandsons who live nearby.
What is the hardest part of being an author?
Self-promotion & social media. Why? I'd rather be writing or reading.
What's the best part of your author's life?
Meeting other writers, authors and readers. Why? They are generous, giving people who will share their knowledge, their insights, and their encouragement.
What's one thing your readers should know about you?
I grew up in coal mining camps of eastern Kentucky.
How have you changed or grown as a writer?
I think so, but part of the joy of writing is stretching myself to learn something new. It's a never-ending process.
What is your favorite pastime?
Walking either in the low country of SC or in the mountains of NC.
Do you have other books?
Yes. A self published nonfiction book, Just Go!, about a missionary serving in Haiti. We'd love to know.
What are you working on now?
Something completely different for me. A historical fiction book, A Faraway Place, set in Appalachia in the 1920's. Hattie Mae Sizemore yearns to read scores of books, but her dad forbids any  influence from the outside world coming into their holler, into their lives, into their minds. When he discovers Hattie reading a book she had found in a barrel of used clothing, he tosses it into the woods. After her mother gathers most of the pages, Hattie hides it underneath her mattress. Until the night she leaves.
Website:
Link to book: https://www.amazon.com/dp/B09ZKDKS4B
Social media links:
Email: carolgheilman@gmail.com
Website: www.carolheilman.com
Author Page: amazon.com/author/carolheilman
Facebook www.facebook.com/carolgheilman
Follow me on social media!