Love Came for Me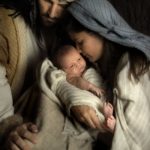 As I've been decorating and baby proofing my home in eager expectation of my daughter, son-in-law, and three sweet granddaughters coming all the way from South Africa, I crank the Christmas music and enjoy the season. But more than the touching and cheery tunes, I hear some profound lyrics in many of the songs of the season.
"Love Came for Me" by Shannon Wexelberg is one of those songs that touch me every time I hear it. It makes the Christmas season deeply person and puts Christmas into a 30,000-foot perspective that we all need to hear. Enjoy, and remember why He came.
Love Came for Me By Shannon Wexelberg
If You had not come, Tender baby King
And humbly left Your throne to reach someone like me
If You had not walked upon this broken ground
Where on earth would I be now?
If You had not come
If You had not come to seek the sick and lame
To set the captive free, to break the prisoners chains
I'd still be in the dark, grappling for the door
Longing for some way, somehow
Love came for me, Love rescued me
Love called my name, Love took my place
Sweet Lamb of God, I'm bowing down
My eyes have seen
I'm finally free
Love came for me
If You had not come, willing, spotless Lamb
My sin would be too much for You to take me as I am
But, oh, the blood of Christ that washes over me
Flowing from Your hands and feet
Don't have to worry where I'd be
(repeat chorus)
This manger King
My everything
Love came for me
C/2010 Shanny Banny Music / BMI
Follow me on social media!