Leanna Sain on Grit-Lit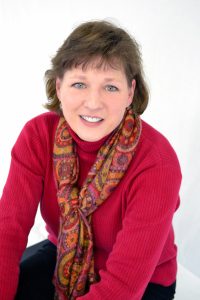 Leanna Sain, earned her BA from the University of South Carolina, before moving back to mountains of NC. Her Southern suspense or "GRIT-lit," showcases her plot-driven method. She loves leading discussion groups and book clubs.
What inspired you to write Hush?
The idea of a serial killer using the verses of the lullaby, "Hush, Little Baby" as a blueprint for his murders had been banging around in my brain for a while, but it wasn't until my mother moved into the final stages of Alzheimer's that I actually started writing it. Watching Mama struggle caused me a lot of pain, anger, confusion and frustration. I needed a way to funnel those emotions. Voile`… the creation of Hush. I made my main character's mother have Alzheimer's so that we could travel this road together. It was a sort of therapy and really helped. I was able to weave some of the things my mother said and did right into the story. When Mama died a little over a year ago, I decided that I'd donate my royalties to Alzheimer's research to honor her. Hopefully, someday soon, they'll find a cure for this horrible disease so that other families won't have to go through what mine did.
How would you describe this book to someone in a 30-second blurb?
Lacey Campbell dreams murders before they happen, but when she realizes the victims all look like her, she knows she's in trouble. Now she's afraid to fall asleep because the next face she sees could be her own. Can she stop the killer before joining the other bodies in the morgue?  
What genre do you focus on and why?
Romantic suspense…because that's what I like to read. Edge-of-your-seat suspense with a happily-ever-after ending.
Why do you write?
I can't NOT write. It's like a cork has been pulled out of my brain and the stories keep glugging out. If I tried to put the cork back in now, my head would explode.
Who is your main character, and how did you choose that name?
In Hush, the main characters are Lacey Campbell and Ford Jamison. I have a document on my laptop with a list of girls and guys names I like. Whenever I hear a new one, I just add it to the list. When I use some of them, I highlight them, so I know they've been used. 
What is your work schedule like when you're writing a book?
I don't have a set time when I write. I have to take what I can get, squeeze in an hour or two as I get it. The only time I'm "scheduled" to write is when I get my writing week. I rent a little cabin about an hour away from home and do nothing but write for a week. From the time I wake up in the morning, to the time I go to bed at night. I can usually pound out 20-30K in a week.
What is the hardest part of being an author? Why?
The marketing. I'm an introvert, so promoting myself is hard.
What's the best part of your author's life?
The magic. That's what I call it when the characters take the story off in a direction that you never intended. When that happens, all you can do is hold on, try to keep up with them by typing like a crazy person, and when you get to the end of the scene, lean back in your chair and say, "Whew! What a ride!!"  
What's one unusual fact about you?
I painted a mural on a wall in an orphanage in Kirov, Russia.
How have you changed or grown as a writer?
After I wrote my first novel in 2007, I took a class at my local community college: "How to Write the Great American Novel." The teacher became my editor, writing coach and dear friend: Gerald Mills. He helped me become the writer I am today. He died in 2015 from complications of a stroke and I miss him terribly. I wish he could read Hush and tell me what he thinks of it.
What is your favorite pastime?
I have a lot of hobbies that I don't seem to have time for anymore: crocheting, quilting, sewing, drawing, gardening. Most of my time now seems to be taken up with hanging out with my husband of thirty-four years, writing, helping my husband with our furniture store and spending time with my grandson.
Do you have other books? We'd love to know.
Time travel trilogy: Gate to Nowhere, Return to Nowhere, and Magnolia Blossoms
YA suspense: Wish
GRITS novels: Red Curtains, and Half-Moon Lake
What are you working on now?
Book Two in the Amelia Island Suspense series: working title is Hoax
Website: www.LeannaSain.com
Link to book: : https://www.amazon.com/Hush-Leanna-Sain/dp/1645262502/ref=sr_1_1?
Social media links: 
Facebook: https://www.facebook.com/Leannasbooks
Twitter: https://LeannaSain@Leannasbooks
Goodreads: https://www.goodreads.com/LeannaSain
Follow me on social media!