This Child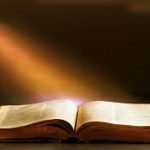 We just enjoyed a month-long holiday, at least I did. We've pondered the Babe in the manger and God's Word becoming flesh and living with us. We've thought about Him growing up and becoming the Savior of the world.
But where did we find all those truths, and what do we do with it all? In the tattered pages of God's Word. It's really true, all of it, and those sacred words about the Christmas story and all of redemption's story still rings true just as much today as it did 2,000 years ago.
Even though I now read the Bible mostly on my iPhone and iPad, the words are living and breathing, and they change me day-by-day. So at the start of this year, I am looking to God's truth to transform me, strengthen me, and make me all He wants me to be.
As you read the words of this powerful song, I pray they will close out the holiday season and start 2017 with truth that will last.
Tattered Pages
by Shannon J. Wexelberg
The Word became flesh
God came from heaven
Mercy and grace
Walking with us
The promise of God
Sacred words written
Here in this Babe
Messiah had come
He spoke the worlds into space
And His words are living today
(In) these tattered pages
They're calling me home
Living and breathing
Ancient words pleading
"Come to the Savior You're not alone"
Love's greatest story
Heaven came for me
And this gift of mercy
Changed who I am
Hope of the Ages
In these tattered pages
Close to my heart
Each word a treasure
Like honey so sweet
I cannot deny
Love found me here
Though my heart was severed
So wide and so deep
Love brought me to life
This child – who is King and a Friend
Is Living Word speaking again
Ancient and true
They are old, they are new
They can find you, find you
There is no hole
So dark that His words can't revive you
Making all things new
Follow me on social media!