Denise Weimer on Moravian marriage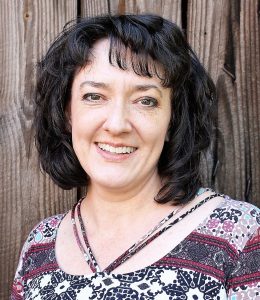 Denise Weimer writes historical and contemporary romance and romantic suspense set in her home state of Georgia. She's authored over nine novels and a number of novellas. As a managing editor at Smitten Historical Romance and Heritage Beacon Historical Fiction, Lighthouse Publishing of the Carolinas, she also helps others reach their publishing dreams. A wife and mother of two daughters, Denise always pauses for coffee, chocolate, and old houses.
How would you describe your newest novel, The Witness Tree, to someone in a 30-second blurb?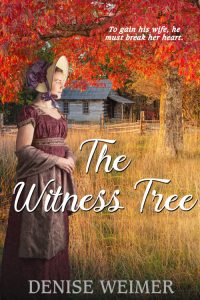 I have to do that a lot when I'm at a festival or book event! I tell them it's about a Moravian marriage of convenience that leads to a dangerous mission in 1805 Cherokee Territory.
Tell us about your newest book.
Past betrayal has turned John Kliest's passion to his work as a builder and surveyor in the Moravian town of Salem, North Carolina. Now, to satisfy the elders' edict and fulfill his mission in Cherokee Territory, he needs a bride. But the one woman qualified to record the Cherokee language longs for a future with his younger brother.
Clarissa Vogler's dream of a life with Daniel Kliest is shattered when she is chosen by lot to marry his older brother and venture into the uncharted frontier. Can she learn to love this stoic man who is now her husband? Her survival hinges on being able to trust him—but they both harbor secrets.
What inspired you to write The Witness Tree?
I'm always on the hunt for story ideas based on legend, lore, and unique facts from different eras and areas in my home state of Georgia. As a child, I'd visited the plantation of Chief James Vann in the northwest portion of the state. I'd also heard about the Moravians, a lesser-known sect of plain people who spread across America in the 1700s and 1800s, bringing the Gospel to the American Indians. The town of Old Salem in North Carolina looks like a little Williamsburg. When I found out that the Moravians had established a mission school on Vann's plantation, I was immediately intrigued. Even more so when I learned that a couple of the male missionaries were required to marry before going there. The Moravians were intent on understanding—and possibly recording—the Cherokee language. Do you know what happened to Sequoyah (George Guess/Gist) when he tried to do that? It sounded like a perfect formula for an exciting period romance to me.
Who is your main character, and how did you choose that name?
Clarissa Vogler's name was chosen by looking at Moravian names of the time period, especially those from Salem, North Carolina, where The Witness Tree begins. She is a teacher at the girls' boarding school who dreams of furthering her art. But it's her skill with languages that extends an unexpected calling.
What genre do you focus on and why?
My primary passion is historical romance, but I also enjoy writing contemporary romance and romantic suspense and time slip stories where modern-day characters uncover mysteries and learn life lessons from the past.
Between now and March, I actually have three contemporaries releasing with different imprints of Lighthouse Publishing of the Carolinas: Fall Flip, an HGTV/Hallmark-style romance centered on the renovation of a 1920s bungalow (Fall Flip on Amazon); Spring Splash, in which an injured college swimmer falls for a special needs swim team and their coach during her practicum; and Traces, a techno-suspense about a reality TV show gone bad. But I do have several other historicals up my sleeve!
What is your work schedule like when you're writing a book?
Because I work from my kitchen island, I wait until my husband goes to the office and my girls go to school. After coffee and devotions, I check emails and social media, then devote the rest of the morning and the early afternoon to writing. I try to wrap up by mid-afternoon so I can start dinner before my daughter goes to swim practice.
What is the hardest part of being an author? Why?
Probably the marketing. Few authors anticipate how much time and effort is involved in getting the word out about their books, and most of us are more than a little shy about it. But in today's flooded, highly competitive market, our publishers expect us to shoulder the publicity load. Thus, we divide our time between writing and promoting, whether it's doing giveaways, Facebook parties, advertising, or engaging on social media or in person.
What's the best part of your author's life? Why?
Not all stories flow easily. Sometimes getting inspired can be a monumental struggle. But there's always that rare tale that just seems to flow from idea to the page. That heart-warming sensation that God's given you that story, and you're doing what He's called you to do, is so satisfying.
What's one unusual fact about you?
For a number of years, I led a mid-1800s dance group. We performed beautiful waltzes, reels, and polkas at historic sites and events across Northeast Georgia and Atlanta. You might notice special attention to detail in the ball scenes of my historical novels.
How have you changed or grown as a writer?
The two areas I've grown the most have been socially and editing ability.
When I first started out, I tended to view writing as more of a solitary endeavor. Now, we're able to connect with readers and other authors online. Other authors are my support team, and vice-versa. The most important open doors along my career path have come through the graciousness of others.
I've also been on an editing journey, learning from editors, publishers, and agents, and finally taking an in-depth class through the Pen Institute. After working as a general editor for LPC, I became a managing editor for its historical imprints. Now I get to help others reach their publishing dreams! And I've definitely learned how to self-edit better. In the twenty years I've been writing, I've witnessed a revolution in stylistic and editing trends. Because of that, my earlier writing style is different from my current style.
Do you have other books? We'd love to know.
Across Three Autumns of The Backcountry Brides Collection – Barbour Publishing – May 2018
A Holiday Intruder of Holly, Ivy, & Intrigue – Celebrate Lit Publishing – November 2017
The Restoration Trilogy (White, Widow, and Witch) – Canterbury House Publishing – 2016-17
The Georgia Gold Series (Sautee Shadows, The Gray Divide, The Crimson Bloom, and Bright asGold) – Canterbury House Publishing – 2013-14
Redeeming Grace (novella) – PublishAmerica, now self-published on KDP – 2006
Link to book: The Witness Tree on Amazon
Web site and social media links:
Follow me on social media!